Flash flood disrupts water supply disruption in Gelegphu
Aug 26, 2021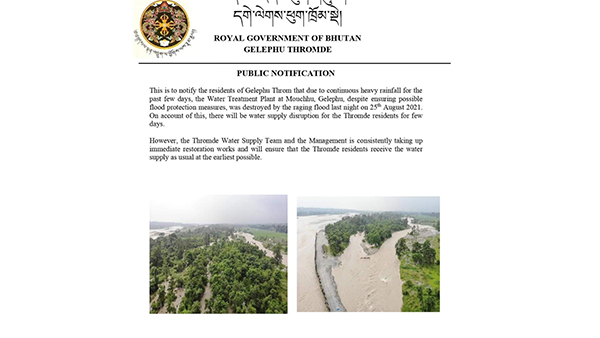 The incessant rainfall has disrupted the Thromde's water supply after a flood damaged the flood protection structures at the Water Treatment Plant in Mao River last night. The restoration works are expected to take some time.
In Pelrithang Khatoed and Khamaed, overflowing seasonal streams flooded the settlements and severely damaged an under-construction road. A flash flood was also reported in the Shetikhari area along the Gelegphu-Trongsa highway.
Meanwhile, the Gelegphu – Zhemgang highway remains blocked at two locations – Box-cutting and Ossay – before reaching Jigmecholing gewog since yesterday.
Karma Wangdi, Sarpang