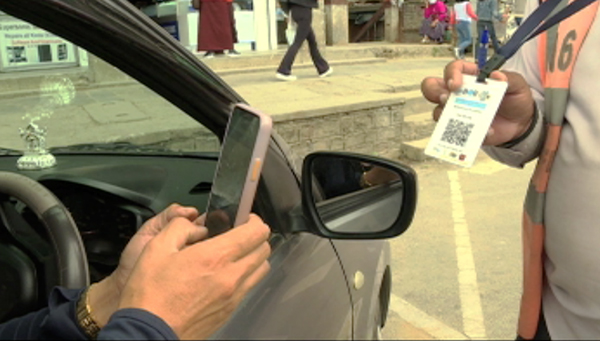 The pandemic is holding back the country from implementing the Digital Drukyul Flagship Programme. But in what is a glimmer of hope amidst this hurdle, the digital transaction is gaining popularity amongst the Bhutanese. Today, people seldom pay cash for goods or services, they now prefer paying through mobile applications.   
Thirty-seven-year-old Bhim Bdr Chhetri from Dagana is working as a parking fee collector in Thimphu. Like most of the office goers in the capital, he also has a prominently displayed identity badge on him. However, it is a quick response (QR) scan code and not a badge at all. He says he stays prepared as people usually chose to pay through mobile transactions.
"People don't usually carry cash now, they prefer paying through mobile transactions. I have mPay and mBoB QR codes. Many pay through mBoB. We surely have developed in terms of digitalization," he said.
Today, QR scan code is a common sight in shops, restaurants, cafes, and even in taxis. People said, the digital transaction makes work much easier and also saves time.
"For taxi drivers, digital payment is very helpful. When the passengers pay using the scan, we directly get the message. Before we did come across people who cheated on us however we are thankful that we are provided with mPay or mBoB. This also helps us to follow health protocol amid the pandemic," said Tshegay, a Taxi Driver, in Thimphu.
"Carrying cash is not convenient. When we go outside with our family, scan and pay is very useful. We usually don't get time to go to the bank. When we come for lunch with our children, if there's no cash we can scan and pay. so it's a very handy tool," said Samten Dema, a resident of Thimphu.
"These days many use digital payment and most of them don't bring cash. We were told this is actually safer. When we have a lot of customers coming in, it is very convenient to pay through a QR scan. Also, it prevents crowd," added Tenzin Tshomo, a shopkeeper.
During the first three days of the nationwide second lockdown in December last year, the Central Bank recorded close to Nu 822,000 domestic transactions in Thimphu alone, through various digital payment channels. Similarly, transactions through QR scan code recorded more than 61,000, amounting to Nu 73 M last year. It is a small step towards the country's digitalisation dream. But it's a step nonetheless.
Kelzang Choden
Edited by Sonam