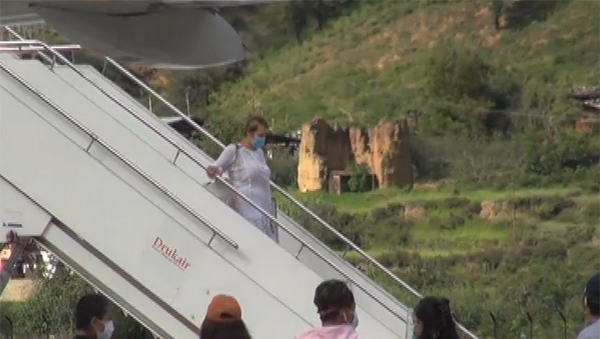 After almost one and a half year, Bhutan received its first tourist today. This has come as a huge relief for those working in the tourism and travel industry. The country suspended the entry of tourists after detecting its first Coronavirus case in an American tourist in March last year. 
Francis Bak from America is the first tourist to visit Bhutan amid the pandemic. It is her second visit to Bhutan. But unlike her first travel to Bhutan, this time, the 70-year-old will have to undergo the mandatory 21-day quarantine at her own expense. She will also have to undergo RT-PCR test upon completing quarantine before taking a tour of the country.
She is visiting Bhutan for three months. According to her travel agency, MyBhutan, she has been waiting to return to Bhutan since her last visit in 2019.
The tour operators in the country have started reaching out to their clients in different parts of the world after the Tourism Council issued a news release last week. The council announced that it will allow inbound tourists who are willing undergo the mandatory 21-day quarantine.
The health ministry announced a similar arrangement in September last year, followed by the National COVID-19 Task Force in December.
Tenzin Yeshi, the owner of Himalayan Travels said, "After the border closure, many of us lost jobs and in my case I was not able to pay my staff. I couldn't even pay my house rent."
"Now we are delighted and hopeful that our country is finally open to tourists. But be it tourists or the tour operators, we should all be mindful that the battle is far from over yet. So, we must all be cautious," he added.
"Locally made tea and other organic products are getting damaged. So, we cannot keep our shops closed for long. Now, as we open it will benefit us even if it means fewer tourists," said Sanita Rasaily, a salesperson in Paro Handicraft.
"We had been relying heavily on His Majesty's Relief Kidu. If we have guests we can sustain on our own and need not apply for His Majesty's Kidu," said Tshering Pelden, a tour guide.
Meanwhile, the minimum daily package tariff of US dollar 250 is levied only after completing the quarantine period. Also, only those tourists coming via air will be allowed entry.
They will have to produce a COVID-19 negative certificate issued not earlier than 72 hours before the journey. They are also expected to follow COVID-19 protocol and TCB guidelines strictly.
The council is encouraging tourists to have both the doses of COVID-19 vaccine.
Between January and March last year, 25,000 tourists visited the country and 4,084 cancelled their travel to Bhutan due to the pandemic.
Namgay Wangchuk, Paro