Online business down and online services up- COVID-19
Jul 11, 2020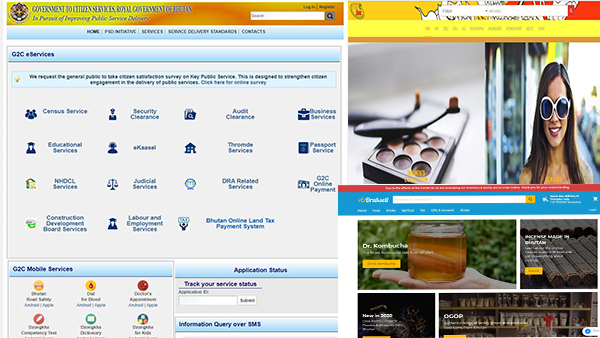 Like any other businesses, online businesses in the country are among the worst-hit amidst the coronavirus pandemic. Druksell, the country's largest impact marketplace for products made in Bhutan saw a sharp decline in its online orders as several countries went into lockdown.
Druksell ships Bhutanese products to more than 30 countries worldwide. It ships around 4,000 to 5,000 Bhutanese made packages in a month during normal times. This has currently dropped to 500 and below since the first case of coronavirus was reported in March this year.
Sonam Chophel, the Manager and Co-Founder of Druksell shares how the pandemic affected the online business, "we are down by probably 90 per cent in terms of profit margins. India got into lockdown, what happened was all our products that go to other countries through aircraft and those shipments got locked up and all our operations stored at some point. Since then we have not been able to ship our products. Customers demand were soaring but we are not able to work out a solution for export. We even tried to work with some of our local courier agents, for example, Bhutan Post which is one of our key partners in shipping, but again they were not able to support us in terms of shipping because of the flight unavailability."
With the pandemic showing no signs of slowing down, Druksell says its future plan of opening stores outside Bhutan could get delayed hampering the business.
Similarly, the business has also been down for online shopping store, Drukbees, that buys and sells products from Bhutan and also delivers orders placed at online stores in India. The business entity saw about 65 to 70 per cent decrease in online orders affecting the income of the employees as well, according to Yangki Lhamo, an employee at Drukbees.
"We do get our monthly salary in the current situation but now we don't get the daily allowances which we used to get before the pandemic. It has not been a month since we resumed business. We had to close for a month after India went into lockdown," she said.
But on the other hand, the pandemic has somehow encouraged the public in using government's online public services. Government's G2C online service saw a record number of users after March this year. The number of online transactions for eight agencies went up to close to 11,000 in June from around 4,000 in March. Road Safety and Transport Authority and Department of Cottage and Small Industry are among the few agencies that saw the most number of clients using the online service for license renewal and other businesses.
The office attributes this surge in the number of users to government's directives to avoid crowds amid the pandemic. It also resulted in some challenges.
"Because of the increase in the number of users we are facing some challenges. As the service delivery involves multi-stakeholders such as RMA and Banks we have some challenges in the online payment system. If we didn't face any challenges or issues, the number of successful transactions could have been up to 70 to 80 per cent. As per our record, in the past three months the total number of transactions is around 50,000 of which 22,000 are successful transactions and that is 50 per cent of the total transaction," said Tshering Nidup, Sr. ICT Officer for Public Service Delivery at the Prime Minister's Office.
Meanwhile, the office of Public Service Delivery is working way forward along with various stakeholders to resolve issues in the online payment system to keep the surge in the number of online users afloat.
Phub Gyem