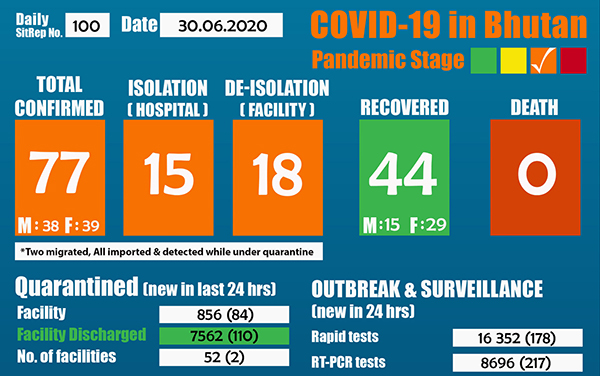 With one more individual testing positive for COVID-19 in the last 24 hours, the total number of confirmed cases in the country has reached 77.
The individual, a 29-year-old man who returned from the Middle East, was in facility quarantine in Paro. He has been moved to the isolation facility. As of today, there are 15 individuals in the isolation facility.
Meanwhile, as per the latest National Situational Update of the total 77 cases in the country, 44 have successfully recovered so far. And with one more individual moved to a de-isolation facility, the total number of individuals in de-isolation is 18. De-isolation is the two-week-long period where a confirmed positive case is kept under further observation after they test negative twice in isolation.
For now, with no community transmission and all cases being imported from outside, Bhutan continues to remain in the orange zone of the pandemic stage.
However, the health ministry strongly urges all Bhutanese especially those residing in the southern border towns to practice effective physical distancing, good personal hygiene, and proper cough etiquette, at all times.
Passang Dorji