Govt. of Japan provides USD 450,000 to support Bhutan's COVID-19 response
Mar 27, 2020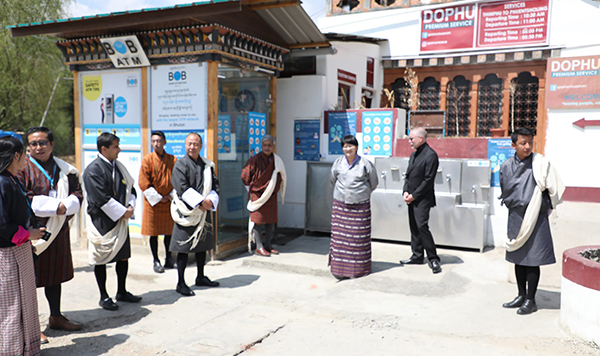 The Government of Japan has provided USD 450,000 (0ver Nu 33.6 M) to support the Royal Government of Bhutan's response to COVID-19 through the United Nations International Children's Emergency Fund (UNICEF).
According to a press release, the UNICEF is partnering with the UN, the government, international agencies, civil society organizations and the private sector to promote proper hygiene practices among children, youth, parents, caregivers and service providers and enhance their knowledge and skills on preventive measures through communication interventions.
To enhance access to safe and clean water including waste management in schools, healthcare facilities and public places, a part of the funding from Japan is being used for Water, Sanitation and Hygiene (WASH) activities.
UNICEF is working with the Ministry of Health, SNV Bhutan and Mawongpa Water Solutions to install 17 public inclusive handwashing stations in Thimphu, Phuentsholing, Gelephu and Samdrupjongkhar Thromdes as well as in Paro and Monggar dzongkhags. Besides setting up handwashing stations, waste segregation bins and buckets with tap for healthcare facilities and soaps for schools and monastic institutions including nunneries will also be distributed in areas that are most in need.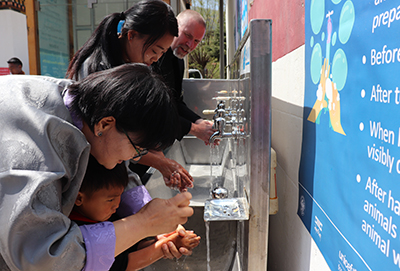 Health Minister Dechen Wangmo said handwashing with soap is recommended as the most effective preventive measure in dealing with the current global COVID-19 pandemic.
"This intervention will not only help to make people wash their hands but will also instil and promote a culture of handwashing with soap and with the knowledge and facility in place, it will help in sustaining behaviour change in people," Lyonpo said. "The unwavering support of UNICEF and SNV Bhutan is appreciated and such collaboration is very critical in Bhutan's preparedness and response to COVID-19."
UNICEF Bhutan Representative, Dr Will Parks said, UNICEF remains committed to supporting the government in responding to COVID-19 and working hard to ensure children and their families are safe and protected.
"This vital funding from the Government of Japan allows UNICEF to procure, deliver and distribute critical medical supplies and equipment, enhance access to safe clean water, support children's continued education and to provide them with psychosocial support as part of Bhutan's COVID-19 response," Dr Will Parks said.
The water supplied at the handwashing stations are treated and safe for drinking. All stations are easily accessible by children and persons with disabilities.
Country Representative of SNV Bhutan, Kencho Wangdi said SNV is pleased to collaborate with the Ministry of Health and UNICEF in encouraging handwashing with soap, which is cheap, easily available and effective.
"The installation of handwashing stations with safe drinking water in the wake of COVID-19 is timely not only to establish a strategic preparedness and response mechanism to deal with the pandemic but also to help prevent WASH-related diseases," he said.
UNICEF is also using the funds to support the Ministry of Health in strengthening safe health care services to both service providers and patients. Besides medical supplies, UNICEF is supporting the procurement of equipment for the Paediatric Intensive Care Unit (ICU) at the Jigme Dorji Wangchuck National Referral Hospital.
Other areas of UNICEF's COVID-19 support to the government includes providing access to continuous education and child protection services and in strengthening risk communication and community engagement to enhance the public's preparedness and response.