FM presents 2019-2020 FY budget appropriation bill
Komal Kharka & Pema Seldon Tshering

May 24, 2019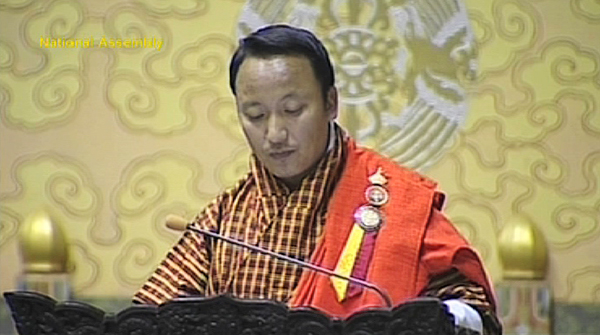 The Finance Minister Namgay Tshering presented the Budget Appropriation bill for the financial year 2019-2020 in the National Assembly today. The total budget for the financial year is estimated at Nu 64.83bn.
Of the total budget, over Nu 34bn will be used for current expenditure and more than Nu 26bn for capital expenditure. The total budget appropriation also includes for principal repayment and on-lending.
The gewog budget will be allocated as annual grants and the Dzongkhag Development Grant has been enhanced. This was initiated in order to provide flexibility in the use of budget, besides promoting ownership and accountability. And to ensure proper utilisation of the grants, the government has issued guidelines.
During the financial year 2019-20, the economy is estimated to grow at 7.2 %, which will be mainly contributed by the commissioning of Mangdechhu Hydropower Project and implementation of programs under the financial year 2019-20.
The budget also looks into the employment sector of which Nu 1.1bn is allocated for the training and programs for the youth. Road, tourism and education are other important areas that the budget focuses on.
The opposition leader Pema Gyamtsho (PhD) said the budget should look into areas of decentralisation and improve gewog road construction. He added that the government should ensure proper implementation of the budget allocated.
The Budget Appropriation bill will be deliberated on June 5.