Labour ministry's findings of 'Learn and Earn' programme
Kinley Dem, Thimphu

May 15, 2019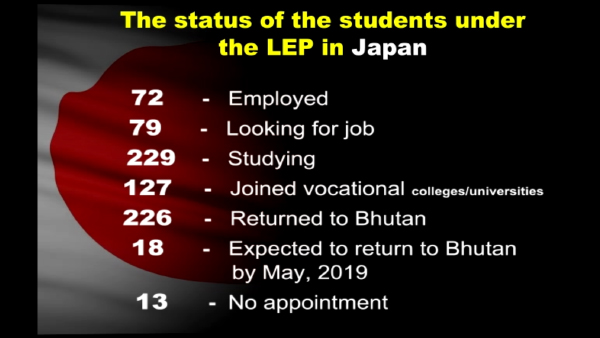 The Japanese government and its relevant authorities have assured support in addressing the issues faced by the "Learn and Earn" programme (LEP) youths in Japan. It includes facilitation of visa extension of students continuing with their education and training, as well as those who have found work in Japan.
However, the press release from the Ministry of Labour and Human Resources (MoLHR) says, "the government of Bhutan is required to share comprehensive information and status of Bhutanese students placed in Japan through this program for effective facilitation and assistance."
The report also says that "we understand that the Japanese government is dealing with thousands of students from different countries and it would be too much to expect any preferential treatment."
It says within the capacities and permissible laws, "the two countries have committed to work closely to solve not just the particular issues, but prospects that would benefit our youth in future."
A seven-member delegation led by the Labour and Human Resources Minister Ugyen Dorji visited Japan from April 16 to 27. The report says the visit was aimed at assessing situations of Bhutanese youths placed through LEP.
A three-member team comprising of officials from the MoLHR and Bhutan Development Bank also visited Japan from April 10 to 29 to facilitate the Overseas Education and Skills Development Loan deferment scheme and collect information on the Bhutanese youth in Japan.
The delegation met with 144 Bhutanese students placed through the LEP and management of seven language institutes. The three-member team met with 219 students.
It was found that 72 students are employed, 79 students looking for jobs, while 229 students are currently studying and 127 students have joined vocational colleges and universities. 226 students have returned to Bhutan, 18 students are expected to return to Bhutan by this month and 13 students' status under confirmation.
Of the 219 students the team met with, only 51 students have applied for loan deferment scheme.
The report says, the students are faced with a fundamental problem of meeting expenses, which includes tuition fees and loan repayment while having to learn and work.
Students pointed out repayment of loans, visa extension for those continuing language course and others joining vocational colleges, finding jobs and working visa are the pressing problems.
The team also found out that some of those students placed by Bhutan Employment Overseas (BEO) are also doing well and managed to secure full-time employment.
"Majority of the students placed by BEO in the First Study Japanese Language School in Osaka have found employment on completion of their language course.31 students were enrolled in the school of which 20 of them got full-time employment and 6 are enrolled in vocational colleges. Overall, 71 of the students who are employed went through BEO."
The report also says, "It is evident that the agent and students had contradicting ideas particularly on the utilisation of loan amount and payment of initial tuition fees, and dormitory charges."
However, most students are interested and willing to stay back in Japan to continue their studies or find full-time work.
Meanwhile, the report also states that students placed through Bhutan Overseas Jinzai (BOJ) are doing well and have not reported major problems. "With a small number of students enrolled in one school, proper monitoring of the progress of students is being carried out."
The report said the Japanese Government placed emphasis on Specified Skilled Workers (SSW) visa scheme, introduced in April this year.
"Graduates under LEP can avail the opportunity to participate in this program. The government also encouraged Technical Intern Training Program (TITP) that can engage graduates of LEP in Japan."
The delegation was also able to explore opportunities and options under TITP and SSW visa scheme for Bhutanese. The Japanese authorities recommended that those students placed through LEP but were unable to secure jobs could apply for TITP and the new SSW scheme after they returned to Bhutan.
An extensive discussion was held with the Organisation for Technical Intern Training (OTIT) and Supervising Organisations (SVOs) on future possible cooperation and implementation of the TITP.
The report says, as recommended by the delegation, some SVOs and implementing companies agreed to visit Bhutan in May this year.
"In response to the request by the delegation, the Honorary Consul General (HCG) and Honorary Consuls (HCs) of Bhutan in Japan assured their support in finding jobs for students who met the eligibility criteria."
They also committed to working closely with the Japanese government on the visa status of residence extension according to the press release.
"The HCG/HCs informed that they would recruit Bhutanese students with requisite skills and enthusiasm into their organisations. However, those who are unable to meet the criteria would have to return to Bhutan and consideration given to them to participate in the TITP and SSW, if eligible."
The report was presented to Prime Minister, Speaker of National Assembly, Chairman of National Council and the Opposition Leader.