UNDP presents His Majesty The King a special award of recognition
Mar 14, 2019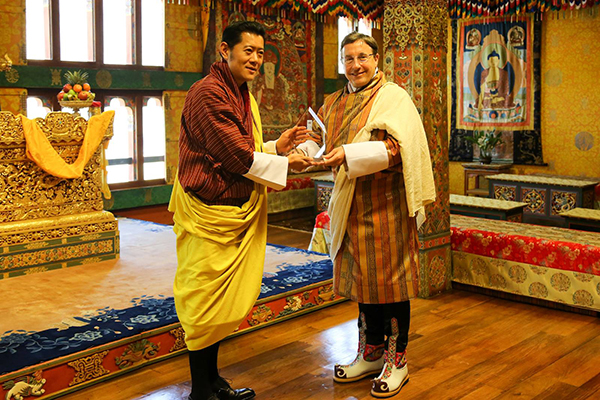 The United Nations Development Programme (UNDP) presented a Special Award of Recognition to His Majesty The King to honour His Majesty's leadership in advancing human development, and the wellbeing and happiness of the people of Bhutan. 
The UNDPAdministrator of and UN Under-Secretary General, Achim Steiner, presented the award to His Majesty The King yesterday.
The UNDP announced that the award takes into account three major Human Development Achievements:
His Majesty's championing of the holistic development paradigm of Gross National Happiness,His Majesty's leadership in environment conservation and climate action which has resulted in Bhutan being the only carbon negative country in the world, and His Majesty's guidance, which ensured a smooth transition of the system of governance and strong democratic foundations to be established in Bhutan.
According to a press release from the foreign ministry, this has been evident from the significant and tangible development results reflected in the National Human Development Report of 10 years of Democracy.
In a statement, Steiner said: "Bhutan's progress and stability are a testament to the vision and guidance of His Majesty The King and the Royal Government. The country's success illustrates that ambitious sustainable development policies coupled with commitment and enlightened leadership can transform the lives of the people."