Motor vehicle accidents on the rise
Changa Dorji, Thimphu

Nov 15, 2018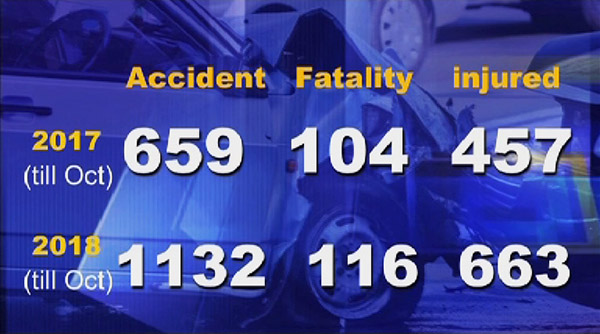 Motor vehicle accidents across the country are on the rise according to the police. From more than 800 vehicle accidents last year the number has reached to 1,132 till October this year.  
Similarly, there is an increase in motor vehicle fatality. Last year, 104 people lost their lives in vehicle accidents and 457 were injured. But this year till October, police recorded 116 deaths and 663 injuries from vehicle accidents.
However, in the capital, vehicle accidents have been declining since 2015.
Last year, Thimphu recorded 506 vehicle accidents with 13 deaths and 242 injured. The figure this year until last month is 387 vehicle accidents with 6 deaths and 171 injured.
According to the police, the maximum number of accidents is reported from Paro, Phuentshogling and Samdrup Jongkhar compared to other districts.
Police say drink driving, speeding and driving under the influence of substances are the main causes of road accidents.