Rainstorm damages maize fields in Monggar
Sonam Tshering, Monggar

Sep 12, 2018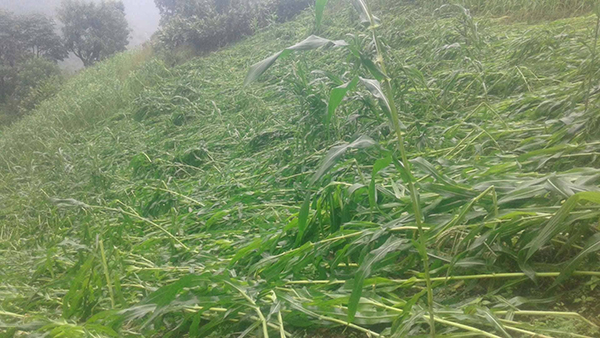 About 15 acres of maize fields belonging to over 50 households in five Gewogs of  Chagsakhar, Gongdue, Kengkhar, Jurmed and Thang-Rong in Monggar were destroyed by a rainstorm that struck on September 10.
In Jurmed Gewog, the rainstorm destroyed over five acres of maize fields belonging to 16 households.
One of the affected farmers is Pema Zangmo from Bilam Chiwog. After harvesting her first maize yield in July this year, she again cultivated the crop for the second time last month.
"I cultivated maize by hiring labourers but now everything has been damaged by the rainstorm, leaving us with nothing to harvest. I am worried there won't be enough maize stock this year."
Other affected farmers shared similar stories.
"After all the hard work, it is disheartening to see our harvest damaged by the rainstorm," Pema Wangchuk, another affected farmer from Jurmed, said.
Farmers are worried that the incessant rain will further damage their crops.
Meanwhile, the Gewog Agriculture Extension Supervisors are visiting the affected households to assess the extent of the damage. Once complete, the assessment report will be submitted to Dzongkhag for review.
There are also plans to distribute quinoa seeds to the affected households.