Youths still not keen about joining technical training institutes
Kipchu,Bumthang

Aug 24, 2018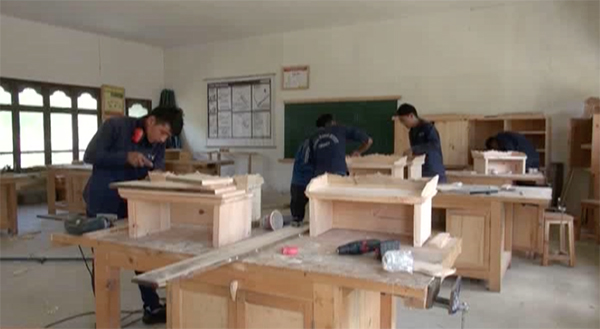 For the youth in the country, joining Technical Training Institutes (TTI) still remains the second option. Many join such institutes only if they fail to disqualify for further education or find a job in the market.
This is a cause for concern especially because the TTIs have been working towards zero dependence on foreign workers in the construction industry for more than a decade now.
At the Chummig Technical Training Institute in Bumthang, there are 240 trainees and more than 90 per cent of them are class 10 graduates.
The institute offers courses in carpentry, plumbing and welding. The course duration ranges from 18 to 24 months.
While enrollment is not an issue with all the 80 slots announced this year filled up, most of the students, however, are not so keen about taking up blue-collar jobs.
Some said there should be a major overhaul in the policies to encourage Bhutan's young population to take up manual work as a lifetime vocation.
"I think the wage for skilled workers must be increased because I heard from some of my friends that in other countries, the skilled workers are paid handsomely unlike in Bhutan," Tshering Phuntsho, one of the trainees, said.
"Bhutanese have enough skills and competency to work in the construction industry. However, most of them shy away from doing such jobs as they are lowly paid," Dorji Phuntsho, another trainee, said.
"If we have an assured job after graduating from here, I think more youths will join the Technical Training Institutes."
Today, the graduates from the institutes usually have to look for jobs in corporate and private sectors. Their salary normally ranges from Nu 8,000 to 11,000 and occasionally Nu 15,000 a month.
"If our graduates are paid well, it's going to uplift the morale of our trainees, which in turn will help achieve their personal desires and also the goal of the government," Pema Tshering, the Principal of TTI in  Chummig, said.
"If there is a revision in their pay, I definitely feel that our trainees or graduates will opt to work and try to replace the people coming from India," he added.