Youth Leadership Camp brings students from across the country together
Phub Gyem, Thimphu

Dec 30, 2016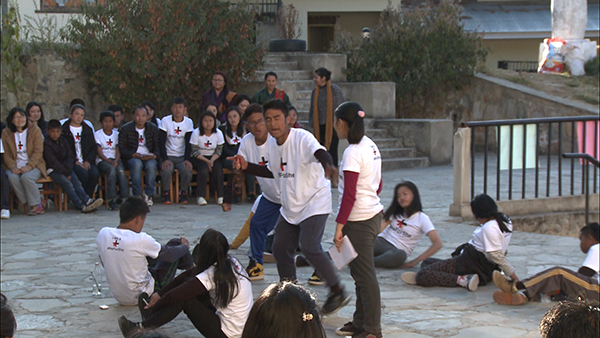 To create awareness on social issues among youth, Respect, Educate, Nurture, and Empower Women (RENEW) organised a five-day Youth Leadership Camp in Thimphu for students and teachers from across the country.
The camp ended today.
The participants used threatre to talk about substance abuse, teenage pregnancy, suicide, and depression.
They also performed street plays on real life situation they are confronted with.
Workshop facilitator, Charmi Chheda said theatre stimulates and moves youth in a way that is different from ideas learned through lectures or books.
"There are pressing issues bothering them and they know that when they themselves watch the skit performed by their friends they were able to reflect on what happened."
Charmi said the youth were able to reflect that maybe they need to do things differently or take decisions in a different way.
"So, the magic has already happened. And most of them are becoming and are ready to take that leadership. Teachers and students both, and they are going to use this as a powerful tool to change things in their schools and in their communities."
A student from Damphu Central School, Pooja Chapagai said the workshop gave them a platform to showcase their talents.
"It taught us a lot of values that we can impart to the people through drama and action and I feel that this workshop is really going to help bring changes in the community."
Her Majesty Gyalyum Sangay Choden Wangchuck and Her Royal Highness Princess, Euphelma Choden Wangchuck graced the fourth day of the workshop.
Once they get back to their schools and communities, the participants are expected to make a difference in the lives of those combating social issues.