Inflation at 6.3 percent
Mar 31, 2015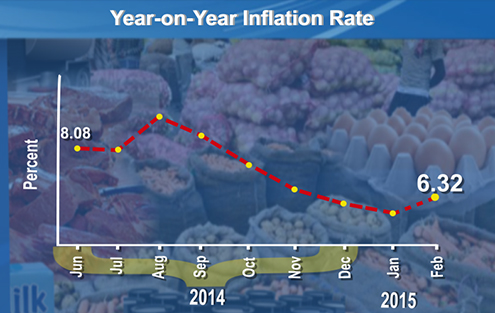 After a continuous drop since September last year, Bhutan's consumer inflation slightly increased to 6.3 percent in February, this year. In the previous month, inflation was recorded at 6.2 percent.
In other words, between February 2014 and February 2015, prices of goods and services increased by 6.3 percent.
The Consumer Price Index published by the National Statistics Bureau attributes the rise mainly to increase in the price of vehicle and house rent. Vehicle price increased by 37 percent while house rent increased by 14 percent.
Food prices, mainly dairy products recorded 10 percent increase.
Price of domestically produced goods and services recorded a higher inflation than the imported ones.
The value of Ngultrum decreased by 16 percent since 2012. This means Nu 100 today was worth Nu 84 in 2012.