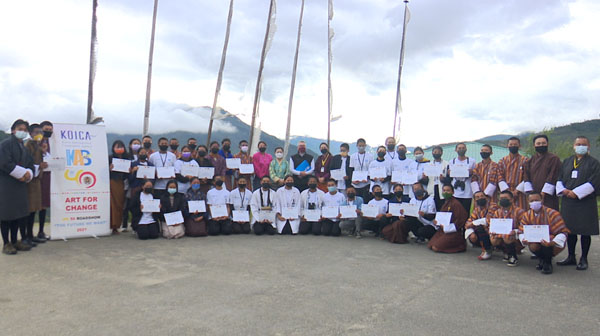 Climate change is a giant but it doesn't mean advocacies about it should be big. It can be small. Messages on climate change and the environment can be in the form of art. That's exactly what UN Bhutan did in the past few days in collaboration with Korean International Cooperation Agency (KOICA). The agencies collaborated to conduct an Art for Change roadshow at Wangbama Central School in Thimphu.
Starting 28th of this month, a total of 35 class X environmental science students of the schools got themselves busy painting, drawings and performing theatrical activities. Within days, the participants became a cohort of environmental activists and the school, a climate advocacy unit.
It wasn't any competition, but a programme that campaigned on climate change.
Participants said they learned to create art that talks loud about the warming world and the need for mitigation efforts.
"After going back home, I would like to disseminate whatever I learned to my parents, friends, neighbours and my community," said Sonam Chokey, a participant.
Another participant Dorji Phuntsho said he learned about the necessity of community vitality in the fight against climate change.
"If we don't take care of the waste properly, it does not only affect one person but the community and the nation as a whole," he added.
According to a teacher, Pema Khandu, students learn about the environment and climate so much, so that they can translate them into real-life experiences. And the three-day programme he said imparted the learner's things very related to the environmental science curriculum.
The programme was aimed at encouraging the participants to use art as a tool in their effort to become environmental change-makers.
Dr Will Parks, UNICEF Bhutan Representative said this roadshow has been going for several months throughout the country engaging lots of students.
"Through the show, we are making them understand what they can do at an individual, family, and community level, to address some of the impacts of climate change," he said.
Likewise, the Programme Coordinator of KOICA Bhutan World Friends Programme Office, Eunkyoung Koh, said the roadshow is designed in such a way that it gives the participants ideas to take their first step in becoming the environmental changemakers.
The three-day roadshow ended on 30th August 2021. This is the 9th roadshow conducted by UN Bhutan. The program was a part of the year-long activities to commemorate Bhutan's 50th Anniversary as a member state to the UN.
Bhutan became a member of the UN in 1971.
Sonam Tenzin
Edited by Chayku