Archer Karma to represent Bhutan in the upcoming Tokyo Olympics
May 15, 2021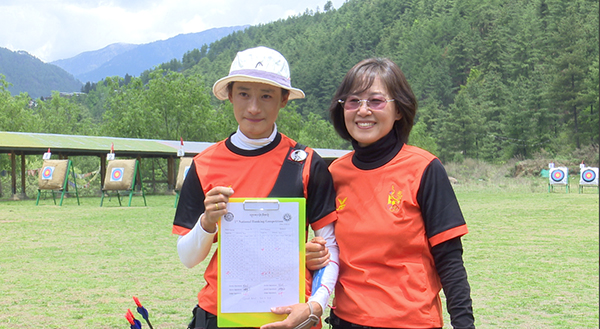 Archer Karma will represent Bhutan in the upcoming Olympic Games in Tokyo, Japan. She successfully achieved the required Minimum Qualification Score (MQS) of 605 in the national ranking competition held in Thimphu, today.
30-year-old Karma from Trashi Yangtse made history by winning the country its first-ever Olympic quota in Thailand, two years ago. However, back then she was not eligible to represent Bhutan in the upcoming Tokyo Olympic Games as she did not achieve the MQS of 605 on a world stage.
To achieve the required MQS, the Bhutan Archery Federation organised a one-day national competition acknowledged by the World Archery Federation at the Langjophakha archery range today.
Despite all the pressure, Karma successfully managed to achieve the required score of 605. By the end of the competition, Karma had secured a score of 627.
"By achieving the MQS today, I have fulfilled my dream to qualify for the Olympic games. It is a history for the country. I am very happy with the achievement," said Karma.
And now, Karma has another dream and it is to win an Olympic medal for Bhutan.
"Until today, my dream was to get qualified for the Olympic games. Now that I have achieved this goal, I want to do something more by winning a medal for our country. For that, I will work very hard and give my best."
Like Karma, the country's first Para Archer, Pema Rigsel also successfully passed the MQS of 575 which qualifies him to represent Bhutan in the upcoming Tokyo Paralympic games if Bhutan's participation is approved. He scored 601 points.
Pema said, "My only worry till today was whether I will be able to achieve the MQS. But I managed to score more than the required MQS and it feels great."
Karma will now leave for the games next month. She will be joined by Sangay Tenzin, who has been recently selected to represent Bhutan in Swimming at the Olympics games for the first time.
Likewise, the Bhutan Olympic Committee also plans to send two additional archers, one judo fighter, and a shooter in the upcoming Olympic games through wild card entries. BOC currently has applied for the wild card spot and is waiting for a response from the International Olympic Committee.
Passang Dorji