Samtse DT proposes reducing the rural subsidised timber allotment eligibility period to 12 years from 25
May 14, 2021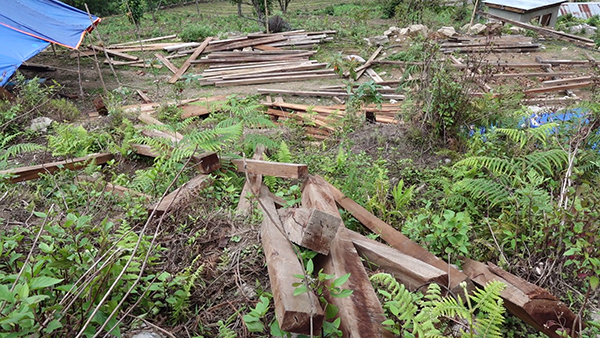 Timber to construct houses in rural Bhutan is alloted as a subsidy to rural households. It means households are allocated timber without paying for it. But they are eligible for the subsidised timber only after a gap of 25 years. The gap irks the rural residents, especially when there is a split household. The Dzongkhag Tshogdu in Samtse discussed the need to reduce the allotment eligibility period to 12 years recently.
In Duenchhukha Gewog, Samtse, 62-year-old Indra Bir Gurung is assisting his son's house construction. As the head of household, Indra used his subsidised timber allotment in 2018 for his own house.
"I have five children. I got timber when constructing my own house but won't get it again for another 25 years. So, for my children, it will be an issue to get timber when they construct their own houses," said Indra Bir Gurung.
For now, Indra's son borrowed timber from neighbours with the promise to return when he gets his quota.
"He didn't get his land record or thram yet. He will get timber only when he gets the thram in his name. We get timber only when we have thram on our name. So, he has to apply for timber once he gets his thram, but I am not sure if it will be that easy," the father said.
The situation is not different for Indra Bdr. Baniya. He is also constructing a house on borrowed timber.
"I am constructing a small house. But I have a large family in one household record, and getting timber is difficult. So, I am constructing my house by borrowing timber. If we construct one house, then we have to wait for 25 years for another timber allotment. So, I request that if we can get timber after 10 to 12 years," said Indra, also from Duenchhukha.
Raising the issue in the Dzongkhag Tshogdu, the Duenchhukha Mangmi, Kumar Singh Limboo, said rural people should be allotted timber when households divide, apart from reducing allotment frequency to 12 years.
"From our perspective, the rule needs to be amended. The reduction in allotment frequency will lift a lot of burden on people. The district chief forestry officer told us that this issue is not just pertinent to Samtse but is of the entire country," said the Mangmi.
Since the Dzongkhag Tshogdu has no authority to decide on the matter, the meeting agreed to forward it to the National Assembly for deliberations and the Member of Parliaments from Samtse.
Sherub Dorji, Samtse