Mass screening in Baeboteng and its periphery after a couple tests positive, Samtse
May 13, 2021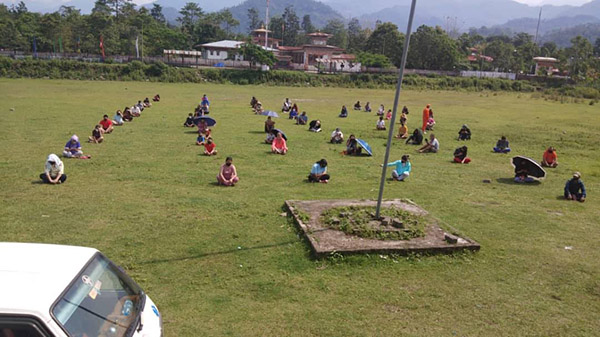 Over 600 swab samples were collected today from people living in Baeboteng and its periphery after a couple tested positive for COVID-19 yesterday from Tashichhoeling in Samtse. The samples will be tested on the RT-PCR in Phuentshogling overnight. The Samtse town and other smaller towns in Tashichhoeling, Tendruk, Norboogang, and Gomtu are under total lockdown.
The Dzongkhag COVID-19 Taskforce has also suspended all import and exports. Registration for quarantine services is also suspended. However, essential shops in other gewogs are kept open, and people can move about, but inter-gewog movement and movements to and from Samtse are restricted until further notice.
Meanwhile, during the mass screening, samples of 115 primary contacts of the couple were sent to Phuentshogling at about 3 this afternoon. Sample collection will continue tomorrow if required.
Concerns started last evening when the couple tested positive on an antigen test. When the results were confirmed on the RT-PCR test, more than 200 primary and secondary contacts were traced last night. According to the Prime Minister's Office, the couple showed features of acute infection, meaning they would have easily spread the virus to others.
And as per sources, the husband, a Desuup, when leaving for home from his duty at the Jitti border on Monday, had no symptoms, but while returning, complained of headache. On the other hand, the wife was ill to the extent that she could not open the restaurant and bar that they operate in Baeboteng since Tuesday.
Sherub Dorji, Samtse