People in Pema Gatshel planning to build single-storied houses, quake resilience
May 3, 2021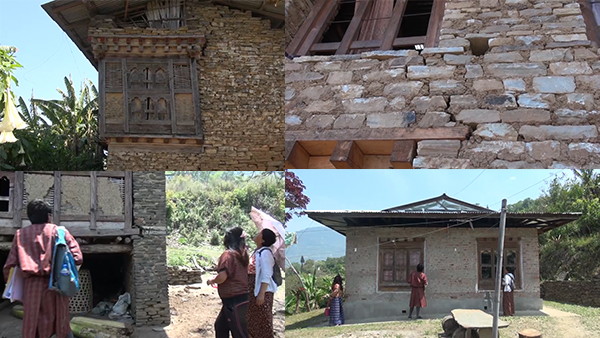 The recent earthquake reportedly affected some 150 houses and institutions in Pema Gatshel. And most of the structures were two-storied houses. Hence, residents are now planning to build only single-storied houses as the risk is higher in multi-storied houses. 
76-year-old Tshering Dema from Bongman village under Khar Gewog was out in the forest collecting firewood when the earthquake happened last week. The quake damaged her two-storied house when she returned.
"I thought my house will be damaged by the earthquake, so I rushed back. But when I got here, the Tshogpa was already here and said my house was damaged. I was worried and it made me sick. Officials visited my place and came for inspection. I was asked not to sleep in this house." said Tshering Dema.
These days, she lives in a kitchen attached to her house. The Tshogpa will be coordinating in carrying out the maintenance works of her house.
Like her, many are affected by the recent earthquake. People are now saying that the risk is higher in multi-storied houses compared to the single-storied house during disasters.
Tshewang Choden, a villager in Khar Gewog said, "I was not here during the time of the earthquake. I was informed that my house was affected. I was thinking of constructing a house with cement and wood, like my kitchen. Not with the stone or bricks as it gets easily cracked. I think the single storied house is safer because even wind cannot blow the roof easily."
 "It is easier for us to run from a single storied house even If someone is inside the house when a disaster occurs. Living in a multi-storied house, there is more risk during night time. It would be better to have a single-storied house with concrete flooring," said Karma Yangzom, another resident in Khar.
The gewog administration and Royal Insurance Corporation of Bhutan Limited have started assessing the damage caused during the earthquake.
A  6.0 magnitude of earthquake hit Assam in India last week and the tremors were felt across Bhutan.
Thinley Dorji, Pema Gatshel