Same protocol for everyone irrespective of nationality, nationwide lockdown
Aug 29, 2020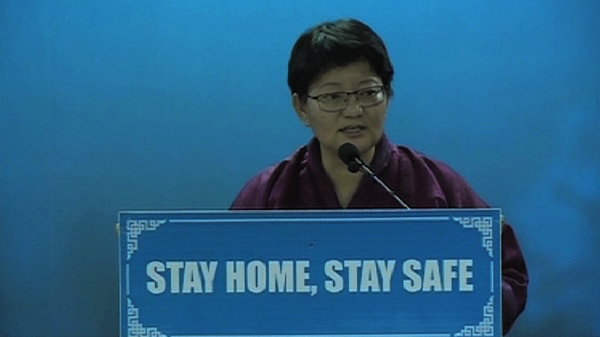 Everyone in the country, irrespective of nationality, must follow national protocols in place to combat the COVID-19 pandemic. The Health Minister stated this during a press briefing yesterday after 28 cases were detected from the DANTAK and Indian Military Training Team cluster areas in Phuentshogling, Thimphu, and Haa, in the past few days. 
"We don't have separate lockdown protocols for them to follow. Everyone in Bhutan will have to follow the same protocol. There is no us and them, we will have to follow a single regulation. Our protocol aims to contain the spread of the virus. We don't have separate protocols for who the person is and where they are from," said Dechen Wangmo, the Health Minister.
The arrangement is the same while treating positive cases. According to Lyonpo, everyone affected, irrespective of the country of origin, will get the same care from the Government:
"Once they are in Bhutan, the ministry won't differentiate and will treat them as any other Bhutanese. We don't have separate health protocols for them. We have protocols on how to deal with a community transmission, how to deal with if the virus comes from inside a quarantine facility. We will follow those protocols."
BBS tried to get in touch with the DANTAK chief in the country to understand how the current lockdown is managed inside their campuses but could not get through.
Meanwhile, Lyonpo said such spike in cases from DANTAK in Phuentshogling might not be due to people inside the cluster breaching lockdown protocols.
"Looking at the nature of the virus, it must have already been in the cluster. All of them are following the lockdown seriously. They have been cooperative and we went to the clusters to inspect too," Lyonpo said.
And according to Lyonpo, the country is dealing with cluster epidemic at the moment despite cases emerging from different geographical locations. The ministry will be studying whether there will be a need for community screening like the recent surveillance in Phuentshogling or not.
Lyonpo said it would take another 24 hours to assess the risk in the affected areas and determine the ministry's next course of action.
Sherub Dorji