Paro FC through to the preliminary round two of the South Asian Zone Qualifiers for 2020 AFC
Jan 30, 2020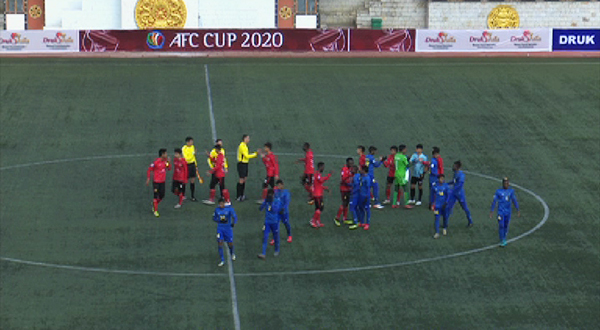 Paro FC is now through to the preliminary round two of the regional qualifier of the Asian Football Confederation Cup. They clinched the place following an away goal advantage against Defenders FC of Sri Lanka as the two-legged qualifier round ended yesterday at the Changlimithang Stadium.
As the 12th man, more than 7000 people witnessed another history being made in the nation's footballing journey at the national stadium in Thimphu yesterday. With full fervour, they supported the home team from the first blow of the whistle. And, it did not take long for Paro FC to reciprocate the gesture. Chencho Gyeltshen put the home side on the lead in the 12th minute with a stunning header.
But this was short-lived as the equalizer from Defenders FC came four minutes later. With the score 1-1, the game moved back and forth. Yet both the teams failed to find the back of the net.
The second half began with Paro FC trying to penetrate the visitor's defence line. And this time, Paro FC's captain, Jigme Tshering Dorjee rose to the occasion to put his team ahead once again in the 51st minute. But this time again, Defenders FC bounced back with a goal, a minute later.
The game finished in a 2-2 draw. However, with the first game in Sri Lanka ending in a 3-3 draw, Paro FC qualified for round two with an away goal advantage.
Speaking at the post-match press conference, Defenders FC's coach Dudley said despite the loss, he is happy with his team's performance.
"We have played very well and we are happy. Paro FC has technically good players and their offence is very good," he said.
For the home team, as intended, they are through to the next round. But reflecting over the chances created and failing to capitalize on those has left them with a slight sense of dissatisfaction.
"My players have given their 100% today but unfortunately it was a draw game. But we will prepare for the next round and we will give our 100% just like today. Football is a game and it depends on a day's luck," said Paro FC's coach Jangchuk Dorji.
"I am happy but not satisfied with the performance because our aim was to defeat them but unfortunately the game ended in a draw," said Chencho Gyeltshen.
Paro FC will now face the champions of the Hero Indian Super League, Bengaluru FC in Thimphu next week.
Tshering Dendup