Prologue to the Tour of the Dragon Mountain Bike Race
Sep 5, 2019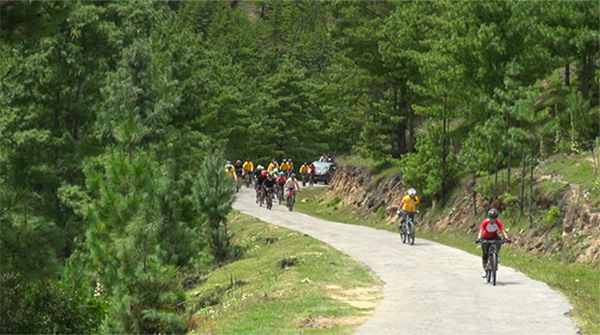 The riders are ready, a food festival is ongoing and musical shows are underway:- with the Tour of the Dragon mountain bike race scheduled to flag off at 2 AM on Saturday from Chamkhar, the atmosphere is building for the 10th edition of the cycling event.
Besides, the riders had an excursion to the famed Mebartso in Bumthang, this morning led by His Royal Highness Prince Jigyel Ugyel Wangchuck.
This morning, the cyclists had an 11-kilometre excursion to the sacred Mebartsho or otherwise known as The Burning Lake in Tang. His Royal Highness led the team and biked through the plains of Chamkhar valley up until Mebartsho where the team offered their prayers. His Royal Highness offered butter lamps at the lake, which is an annual pre-race ritual made for the well being of all the participants.
The Tour of the Dragon often dubbed as one of the toughest one-day mountain bike races in the world, tests riders to their limits. It takes toil for the top riders to complete the 268-kilometre race which finishes at Thimphu without taking a break and for that matter, even a toilet break.
"Taking breaks for the long toilet is necessary but for urination, we never stop our cycles so that we don't lose even a minute during the race. We pee in our pants all the time during the race. I have completed the race in the past mostly peeing in my pants while still riding my bicycle," shared Norbu, a soldier by profession who is participating in the Tour of the Dragon.
"So far it's been exceptional. Coming to Bhutan and discovering Bhutan has really been special. It is such a magical country and the more I see it and the more people I meet, it becomes more and more special. So, it's been a fantastic build-up towards this special event and now having come in and met the other riders and experienced the build-up to the race, it's really very special and I am very excited to undertake the race," added Tom Schofield, a participant from England.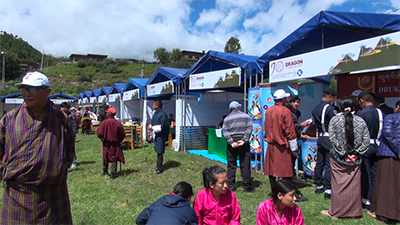 So far, 47 cyclists including 4 women, both local and international have registered for the event. More participants are expected to join the race before the registration closes by 1 PM tomorrow.
Meanwhile, to mark the 10th anniversary of the event, a food festival has been opened at Chamkhar. Various local dishes of Bumthang are available at the festival. Local entrepreneurs have also displayed other products such as herbal tea, mushroom, buckwheat floor and jams in their stalls. A musical concert is also being performed.
Kipchu.