National Youth Engagement and Health Literacy Meet underway
Samten Dolkar, Thimphu

Aug 13, 2019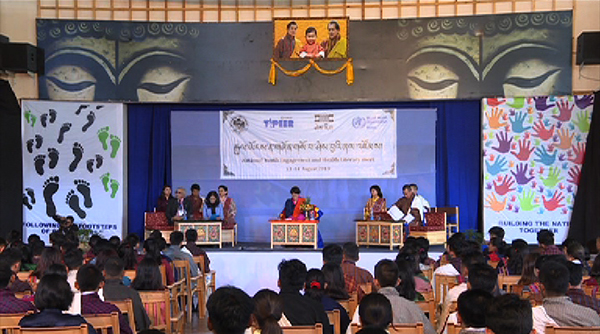 To empower and engage youth in decision making and to create awareness on the importance of health, the first-ever inclusive youth and health literacy programme is underway in Thimphu. The two-day meet is organised to provide a platform for young people to share their knowledge and experiences so that they can build their capacity to enhance and promote health and well being. 
Around 600 youths including students, out of school youths and RAINBOW Bhutan are taking part in the programme.
"Knowledge will empower you to make the right decisions. Comprehensive knowledge on say HIV/AIDS, how to prevent yourself from getting any communicable diseases, it's very less. So when you are not informed or empowered, you cannot make the right decision," the Health Minister Dechen Wangmo said.
"If you look at our plans, mostly there had been lots of consultation but among stakeholders and not with the beneficiaries. And you all are the beneficiaries of these policies, interventions, strategies, laws and legislation. You know what works best for you and it's time to speak that out."
The event will see participants discuss sexual and reproductive health rights, sexual orientation and gender identity expression and importance of youth engagement among others.
"Tomorrow we will do a declaration. We will note down points that the youth shares and compile it into a book. We will then distribute it to the relevant agencies and also might as well submit it to the prime minister's office," Lakey Tshering, the Coordinator of Y-PEER International, said.
The meet is expected to take place annually. The Ministry of Health in collaboration with Y-PEER and other relevant agencies is conducting the meet with funds from the World Health Organisation (WHO).