Indian PM to arrive in the country for two-day visit on August 17
Phub Gyem &Komal Kharka, Thimphu

Aug 10, 2019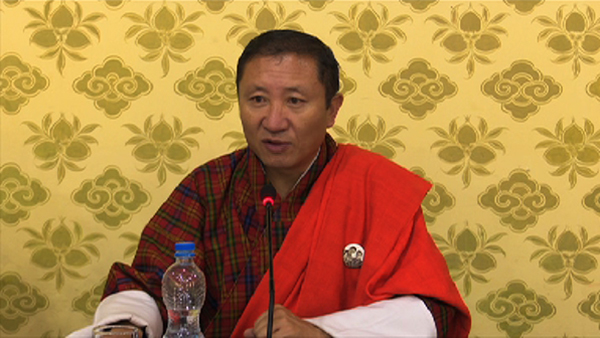 India's Prime Minister Narendra Modi will arrive in Bhutan on August 17 for a two-day state visit. It will be his second State visit after his first visit in 2014. This time he is visiting Bhutan at the invitation of the Prime Minister Dr Lotay Tshering.
At a press briefing yesterday, the foreign minister said the visit is in keeping with the tradition of regular high-level exchanges between the two countries.
During the visit, India's Prime Minister Narendra Modi will also receive an audience with His Majesty The King and His Majesty the Fourth Druk Gyalpo and meet with the Prime Minister Dr Lotay Tshering.
"Since this government was elected, it is the first head of government visiting Bhutan, that also none other than His Excellency Prime Minister of India. So given that we have had a very strong bond of friendship between the two countries, the visit of the Indian Prime Minister is already very significant. In addition, it provides an opportunity for the two leaders to discuss bilateral issues and there are several other areas where cooperation can be enhanced, " the Foreign Minister Tandi Dorji said.
The visit will see the inauguration of the 720 MW Mangdechhu hydroelectric plant, South Asia satellite and introduction of RuPay Card. Bhutan is the second country after Singapore to be part of the internationalisation of RuPay card. It will allow Bhutanese travelling to India to use the card to withdraw Indian Rupees from ATMs and make payments at points of sales and vice versa.
Further, nine Memorandum of Understandings (MoUs) will be signed between the two countries. It includes MoU on Aircraft accident and investigation between the aircraft investigation unit of the Government of India and Ministry of Information and Communications (MoIC) of Bhutan. It is to enhance aviation safety, co-operate in an aircraft accident and accident investigation and to share information and expertise. And there will also be signing of the agreement between the Royal University of Bhutan(RUB) and four leading Indian Universities for exchange of academic and faculties.
"We also have MoU between the National Legal Institute of Bhutan and the National Judicial Academy of India. This is for cooperation in judicial training. Then there is also MoU between the Jigme Singye Wangchuck School of Law and the National School of Indian University. Then the next MoU is a collaboration between the Department of Information Technology and ISRO, which is Indian Space and research organisation and basically, this MoU will allow collaboration with  ISRO in the areas of satellite and space technology," Sonam Tobgay, the Director of Department of Bilateral Affairs, said.
The visit provides an opportunity for the two sides to discuss ways to further strengthen and diversify the bilateral partnership, including economic and development co-operation, people-to-people ties as well as shared views on regional matters and other issues of mutual interest.