A special winter camp for children from Lunana
Komal Kharka/Punakha

Jan 18, 2019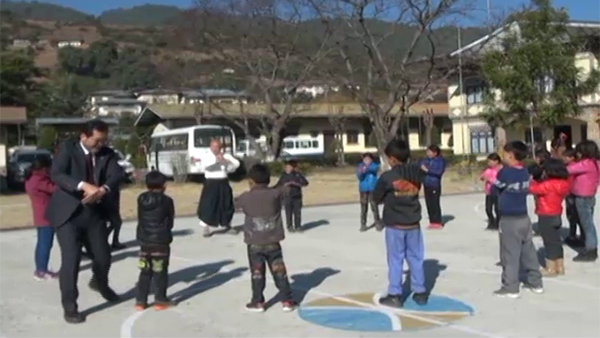 Away from the freezing conditions back home, some 21 students from Lunana enjoyed the warm weather in Punakha over a weeklong winter camp especially organized for them.
These students from class PP to six were treated to storytelling sessions and various Japanese art forms. The winter camp also included educational programs, arts and crafts, games and sports events.
JICA Bhutan organized this first of its kind winter camp to provide a platform and the much needed exposure to children from the remote highland community.
The Chief Representative of JICA Bhutan, Mr. Koji Yamada, said that this is the first opportunity for JICA to learn about the life of the highlanders. "Based on our experience from this program this year, we would like to improve our program to be delivered in the coming few years," he said.
Students also learned the basics of Japanese martial arts, Akido and the simple techniques of self-defense.
Officials from Wangduephodrang also briefed the students about climate change and glacial lakes in their areas.
"By taking part in this winter camp, I learned a lot of new things such as Japanese language, arts and crafts, and music. These are new knowledge for me," said a student, Pema Tashi.
The children were also shown construction machineries and taught how to operate the machines.
A student attending the camp, Kinley wangmo, said that she learned to operate machines, singing and dancing, drawing and reading among others.
The Principal of Lunana Primary School, Gyem Dorji, said that such opportunities were not available in the past due to the geographical location of Lunana. "This program will help us and the students immensely in improving their academic performance and contribute to their wholesome development."
The winter camp concluded on Thursday. JICA Bhutan plans to organize similar camps in future.