His Majesty The King grants Dhar to NC members
Phub Gyem, Thimphu

May 30, 2018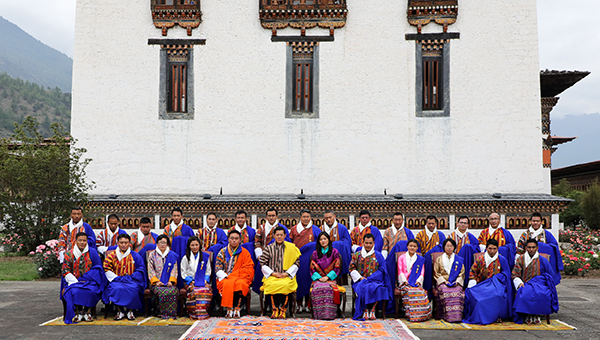 His Majesty The King granted Dhar to the newly-elected members of the 3rd National Council yesterday at the Tashichhodzong coinciding with the auspicious day of Duechen Nga Zom or Lord Buddha's Parinirvana.
His Majesty has reappointed the five eminent members for another term. They, too, received Dhar from His Majesty yesterday.
The 3rd National Council election was held on April 20.
After granting dhar, His Majesty The King and Her Majesty The Gyaltsuen graced the Namgay Tongchhoed prayers at the Kuenray of the Tashichhodzong.
The prayer ceremony, presided over by His Holiness the Je Khenpo, was held to mark Duechen Nga Zom. Hundreds of people flocked to the courtyard of the Tashichhodzong to receive blessings from the Neten Chudru Thongdrel.
Sacred Nangtens were also displayed for public veneration. Lord Buddha's Parinirvana or Duchen Nga Zom, observed on 15th day of the fourth Bhutanese month, marks the death of Lord Buddha.