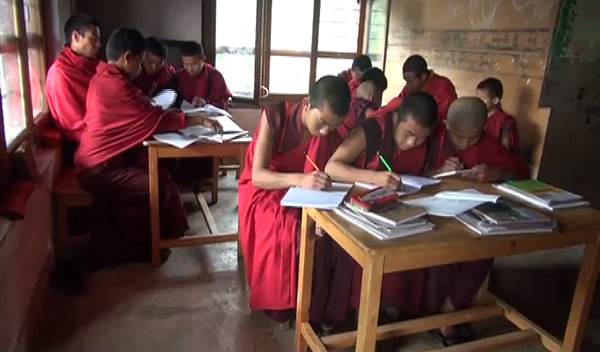 Speaking English is no longer a verbal obstacle for monks of Gatsheling Monastery in Dorokha, Samtse.
Like many other monastic institutions in the country, the Gatsheling Monastery has included English as part of their curriculum.
Apart from learning religious texts, the 13 monks there have been taking deep interest in learning the universal language- English.
They can now read and write basic words in English. They take English class from 10 am-12pm from Monday-Saturday.
The English curriculum was launched in September last year. Monk Tshering Chophel shared: "Learning English was new to us. But I love learning the language. Like Dzongkha, it is important language used by government offices."
Her friends have nothing different to share. "I haven't studied English since my first grade. So I am highly excited to speak and write English," said another monk, Jigme Wangchuk.
The monks are taught English by 24-year-old Tika Maya Phuyel, who doesn't mind walking over five hours from her place to the monastery.
"I think two hour of teaching is less. By the time they finish copying words that I write on the board, the class gets over. Since they are not used to writing English, it takes time for them to start from the scratch," Tiya Maya added.
She uses textbooks printed for Non-Formal Education to teach monks. However, since the book is quite advanced for the beginners, she now plans to use simpler textbooks from nearby schools.
Meanwhile, the monks are on their way to have command of English language, which has become important with the globalisation.