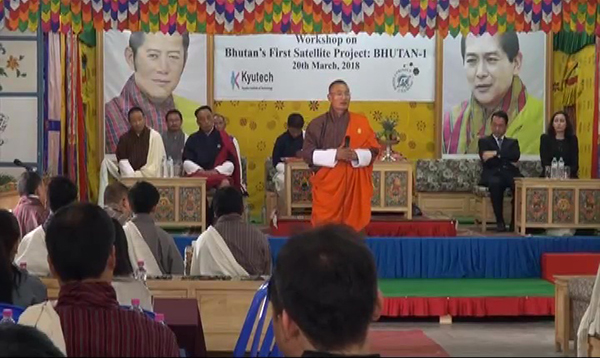 Prime Minister Dasho Tshering Tobgay said to develop information and communications technologies in the country, setting a strong foundation is important and added "College of Science and Technology is the place to begin with."
Lyonchhen was speaking at the first-ever workshop on Bhutan's First Satellite Project: Bhutan 1 in Phuentshogling yesterday. The workshop was held at College of Science and Technology (CST), which was attended by electronics and communications students.
Prime Minister expressed his full faith in students' capability. "I have no doubt about that. One of your college mates is already there in the team to launch the first-ever satellite."
The team from Bhutan's First Satellite presented an overview of the project, the technicalities involved from building it till the launch. The satellite, which is going to be launched this June, has inspired many students in the college.
One of them is Pema Choden and she said, "The team shared their experiences in building satellite and I learned how I as an individual can contribute towards technical development of the country."
She further shared: "Being an electronics and communications engineering student, we are directly or indirectly involved in developing that satellite."
Also for the team of Bhutan's First Satellite Project, it was a lifetime experience. "I never thought that I will ever work on space. It is because no one has participated in such projects before. But now, we have carved a way and other youth can follow suit," said Yeshey Choden, the member of satellite project.
The satellite workshop was organised by the Department of Information Technology and Telecom under the Ministry of Information and Communications in collaboration with Kyutech Institute of Technology in Japan.