DPT and DCT come together as a political party
Pema Tshewang & Kinley Dem

Feb 28, 2018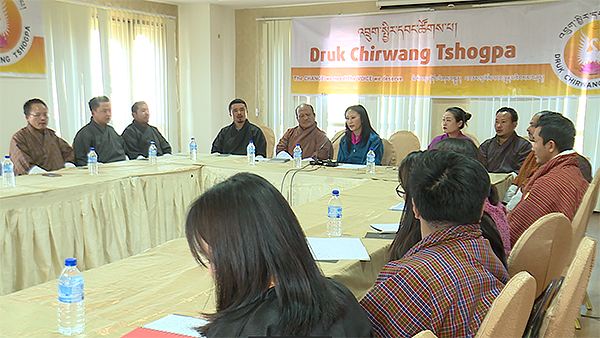 Druk Chirwang Tshogpa (DCT) and Druk Phuensum Tshogpa (DPT) have come together as a political party under the banner of DPT to contest in the 2018 parliamentary election. Druk Chirwang Tshogpa deregistered as a political party on Monday.
At a press conference today, former party president Lily Wanggchuk and other former members said Druk Chirwang Tshogpa decided to deregister for various reasons. One is lack of state funding.
Carrying forward their ideology using a different platform and to prevent further fragmentation of the society are also among the reasons.
The two parties came to this decision after a yearlong discussion. Druk Phuensum Tshogpa (DPT) is expected to talk to the media soon about the decision. "Eventually it was DPT who was more open to the idea of incorporating our manifesto in their manifesto," Lily Wanggchuk said.
"They were also open towards a merger of the DCT and DPT," she added.
Lily Wanggchuk will now be DPT's candidate for North Thimphu constituency. "Initially, both DPT and DNT were only interested in me contesting as the candidate for North Thimphu. I have my own principles and ethics. I was not in the favor of abandoning my party for a party ticket from another platform".
Lily Wanggchuk said there are thirty candidates with the deregistered DCT and there are no candidates in ten constituencies for DPT. A meeting will be held to fill in the vacancy.
Druk Chirwang Tshogpa submitted an application signed by fifteen founding members, expressing their desire for deregistration to the election commission.
The party was registered in 2013 and secured about 12,000 votes or 5.9 percent of the total votes in the primary round. The party was not eligible for state funding since it did not secure 10 percent of the total votes.