Queen Mother inaugurates an exhibition on Trima pattern
Passang, Thimphu

Aug 31, 2017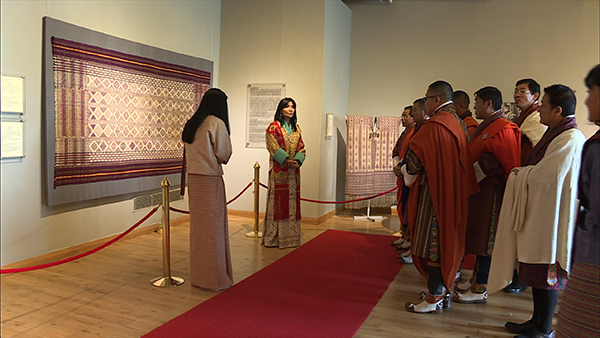 Her Majesty The Queen Mother Sangay Choden Wangchuck inaugurated an exhibition titled "Trima -Discontinuous weft pattern" at the Royal Textile Academy in Thimphu today.
Trima is one of the complicated and expensive patterns of the Bhutanese weavers.
The exhibition is to promote the unique and sophisticated art of weaving which is often mistaken for embroidery. Trima literally means coiling the warp. The weft yards are entwined around the warp yarns producing motifs that are raised about the ground cloth.
The exhibition is designed under four different themes – Kushung, Kushuthara, Ngosham and Pesar.
"Since the Trima weaving is very difficult and time consuming, most of the weavers tend to go for the easier motifs and we have a fear that in the long run it might vanish," said the Textile Museum's Programme Director, Singye Dorji. "So we encourage the weavers to go for Trima weaving, so that it will be promoted."
He added that the pattern is unique to Bhutan and has drawn the attentions of textile enthusiasts and experts across the world.
Today, only a few Bhutanese consumers understand the different weaving patterns in the country. And Textile museum has only four expert weavers who had been weaving for the last 15 years.
"Trima weaving consumes a lot of time unlike designing other patterns," said a weaver, Seldon. "We have to raise the threads again and again above the ground cloth to design each pattern," she added.
The Textile Museum and the Royal Textile Academy are jointly organizing the event which will be held for nine months.