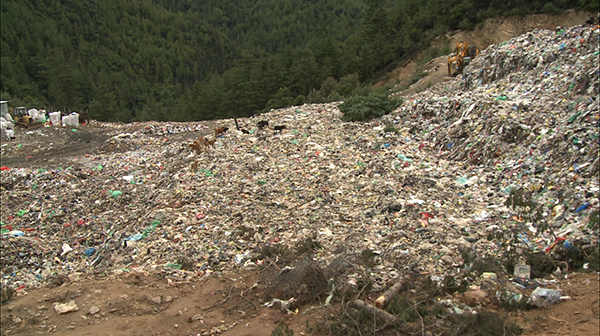 Despite exceeding its capacity 15 years ago, the Memelakha landfill site in Thimphu is still being used as a dumping yard. The landfill was constructed in 1994 to dump wastes for eight years.
Every day around 18 truck loads, containing about 51 metric tonnes, of both wet and dry waste are dumped at the landfill site. This, according to Thimphu Thromde is due to lack of proper area to construct a new one.
The landfill is under more pressure after the Serbithang dump yard was closed last year. All types of waste collected from all parts of Thimphu are now dumped at Memelakha.
"If there is landslide, it may pose higher risk to the highway which is right below the landfill. Moreover, in the future if there are more liquids coming from the waste, it may contaminate the underground water," said the Environment Officer of Thimphu Thromde, Phub Tshering.
To minimise the problem at the Memelakha landfill site, the Thromde expanded the area and constructed tanks to collect leachate to prevent it from contaminating the underground water. The Green Road, a private company is using plastic wastes from the landfill site to build roads. A survey is  underway to further expand the landfill site.
Meanwhile a Material Recovery Facility is under construction at Ngaberongchu in South Thimphu, which will further segregate the dry wastes from plastics and pet bottles to be recycled later.