Works to develop Haa Dzongkhag Thromde included in 12th FYP: PM
Sangay Chezom, Haa

Jul 26, 2017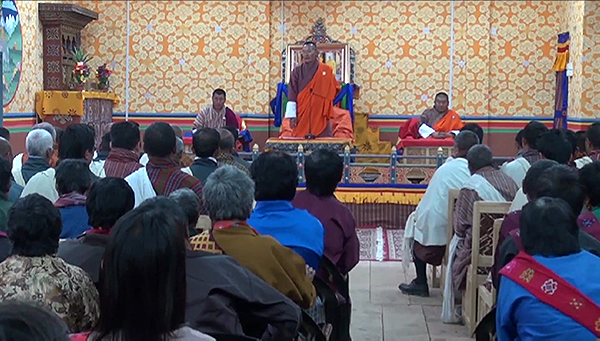 Haa Dzongkhag Thromde will be booming with developmental works during the 12th five year plan. This was shared by the Prime Minister Dasho Tshering Tobgay yesterday during the meeting with the people of Kar-tshog and Uesu Gewogs, local leaders, saw millers, and contractors involved in the construction of Haa-Samtse highway.
Lyonchhen told the gathering that the government has completed the urban planning for the Haa Dzongkhag Thromde. He added that to execute the urban developmental activities, around Nu 500m has to be invested.
"We have the approval from the dzongkhag admin, Works and Human Settlement Ministry. Now, we are waiting for Land Commission's approval which will be done soon," affirmed the Prime Minister.
During the meeting, Lyonchhen talked about incomplete projects such as construction of Samtse-Haa highway and blacktopping of gewog Centre (GC) road. He urged the contractors to complete two projects on scheduled deadline without compromising the quality.
"Get the fund as and when needed and the government must not delay in releasing the fund. If you don't get the budget on time, tell me, I will deal with it," said the Prime Minister, adding that if the weather hampers the work, the government can extend the deadline in line with the rule.
Besides this, Prime Minister consented the Dzongkhag Tshogdu's decision to stop issuing new licenses to run saw mills in Haa and explained to the locals that more number of sawmills in the district will not help saw millers to make profits. Lyonchhen also encouraged farmers to try poultry farming and take care of central schools.