BKP chooses Dasho Neten Zangmo as party president
Kinley Dem & Pema Tshewang, Thimphu

May 29, 2017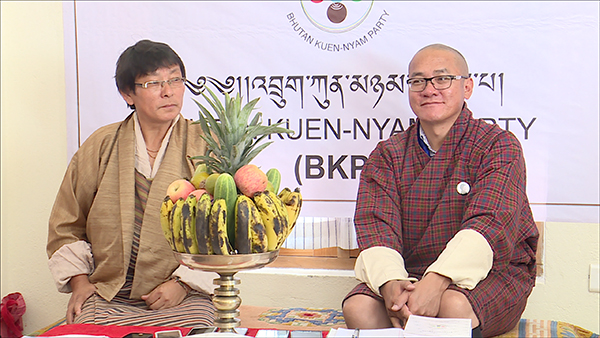 Dasho Neten Zangmo is Bhutan Kuen-Nyam Party's new president. The former president Sonam Tobgay said he voluntarily resigned in favour of Dasho as the country deserves someone better.
"The country deserves much more than me," said former party president Sonam Tobgay at a press conference held this morning to announce the appointment of Dasho Neten Zangmo as the new party president.
He said there is a need to uplift the standard of democracy in the country and that the party could ask for no other person than Dasho who has a wealth of knowledge and experience. He said Dasho has worked as a teacher, an educationist, a planner, foreign secretary, cabinet secretary, the chairperson of ACC and finally with a NGO.
Both the former and the newly appointed party presidents stressed that the BKP seeks to redefine politics. The party wants to move away from conventional and divisive politics and focus on "engaging in politics in a noble and dignified manner".
Politicians are seen as power hungry, authoritarian and a threat, and are associated with corruption and abuse of power. The party wants to change such perceptions and attitude towards politics and politicians.
Dasho Neten Zangmo said it's a huge responsibility. "Building roads and bridges are easy but when it comes to changing people's attitude, it's tough."
Dasho also told the reporters that people in the rural areas see politics as a men's field. "This has to change," she said. Dasho added there has to be more women in decision making positions.
Dasho also emphasised the importance of working collectively as a country. "At the end of the day, we have to remember that we are all Bhutanese and nothing can stop us if we work together."
Dasho Neten Zangmo joined BKP to contest for the 2018 parliamentary election on May 26. She said she joined the party because they share common values, beliefs and principles.
Dasho will contest from Dewathang-Gomdar constituency.