Colleges to have Rover Scouting clubs
Karma Wangdi, Gelegphu

Mar 29, 2017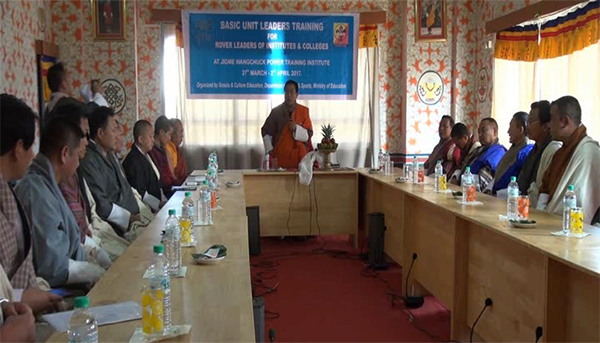 Tertiary level of educational institutes and other vocational institutes will soon have Rover Scouting clubs. In line with this, week-long basic unit leadership training for rover leaders is happening in Sarpang.
Some 17 lecturers from various institutes and colleges are attending the training. They are being trained on five aspects of scouting: physical, intellectual, emotional, social, and spiritual. After the training, the participants will head to their respective institutes to start Rover Scouting clubs.
Rover Scouting is an initiative of the education ministry and its objective is to encourage citizenship education with values.
"The colleges and institutes are directly under the Royal University of Bhutan and labour ministry. We had to ask permission from them and discussed because they have their own syllabus and curriculum. Under His Majesty's command, we are instituting Rover programme in the colleges and institutes," said Programme Coordinator of Ministry of Education, Pema Wangchuk.
Currently, scouting programme in Bhutan take place in schools. It has three sections- Nachung Scouts for primary schools, scouts for secondary schools and Rover Scouting for tertiary level.
The scouting programme was launched in Bhutan in 1980s but it was further consolidated after the inception of Bhutan Scouts Association in 1996.