Global Money Week to promote financial education, inclusion
Passang, Thimphu

Mar 27, 2017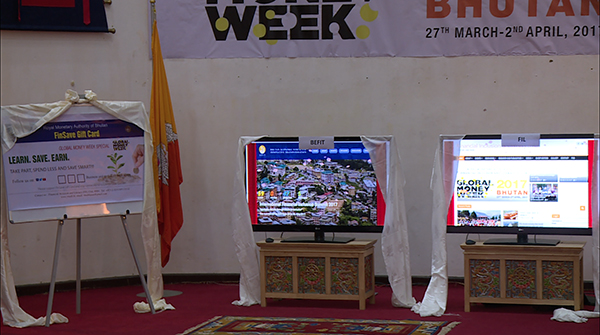 A series of events will be organised this week as Bhutan marks the Global Money Week. With the theme- Learn. Save. Earn- the week will be devoted towards promoting financial education and inclusion.
RMA's Governer, Dasho Penjore described financial inclusion as "an extensive exercise of financial services to reach far and near, old and young, poor and rich, and to give prospective to everybody to be the member of the financial community."
The events will particularly target children and youth, rural communities, senior citizens and disadvantaged section of the society. The Regional Coordinator for the Asia Alliance for Financial Inclusion, David Ambadar, said this group is mostly the lower income often in rural areas and often without access to formal education.
"Financial inclusion improves lives of the poor and would add to national development objectives, so clearly financial inclusion has a lot of potential and that should be important to everybody."
RMA's Governor also said that saving is an important theme for Bhutan. "We are known for being spendthrift, both at individual and community levels. With financial institutions coming up with initiatives to encourage savings, the culture of saving would set in."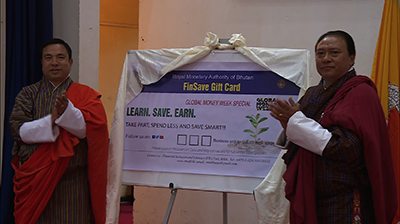 Global Money week is marked worldwide with launch of with events, activities, and projects aimed towards inspiring children and youth to learn about money, saving, creating livelihoods, gaining employment and becoming entrepreneur.
Bhutan kicked off the Global Money Week celebration with the launch of the Financial Inclusion and Literacy website. The Bhutan Economic Forum for Innovative Transformation or BEFIT website for the International Financial Inclusion Summit to be held in May called was also launched.
Finsave Gift card, which is a discount coupon issued on several occasions for a specified period of time, was also introduced. It is intended to improve citizens saving.
The series of events to mark the Global Money Week celebration will be organised by the Royal Monetary Authority in collaboration with financial institutions, NGOs, and government.
Thematic talk programmes, opening of bank accounts, use of M-BoB and Bwallet for youth and women, international youth online talks, and a financial fair at clock tower in Thimphu are some of the programs scheduled for the Global Money week.