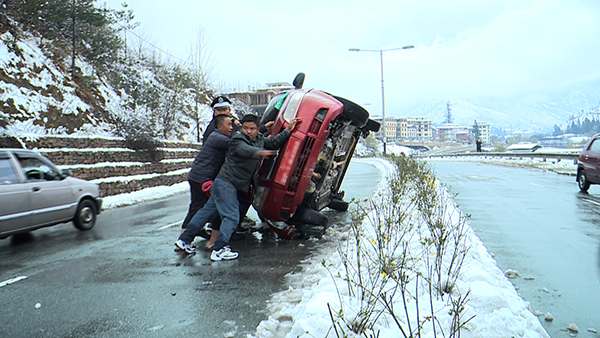 Yesterday's snow, the heaviest in the recent memory, has wreaked minor havoc on Thimphu roads. A total of seven car accidents were reported in the capital yesterday with an accident in Simtokha claiming a life.
Thimphu Traffic Police say while some accidents were caused by the slippery road condition, others were caused by people driving under the influence of alcohol. Some cars suffered minor damage after they were hit by huge chunks of snow falling from the roofs.
In Langjophaka, landslides triggered by the snowfall, have caused major damage to two houses. The occupants said the incident took place around 3:30 in the afternoon. However, there were no casualties.
Yesterday's heavy snowfall also forced the closure of the ongoing Mega Fair organised by RENEW at the Changlimithang after several stalls collapsed. While the stalls are being repaired, all the merchandise has been moved to the Bhutan Olympic Committee building.
Police are cautioning people to be extra cautious on the road as the wet weather continues.