His Majesty offers prayers before a special statue of Zhabdrung
Dec 27, 2016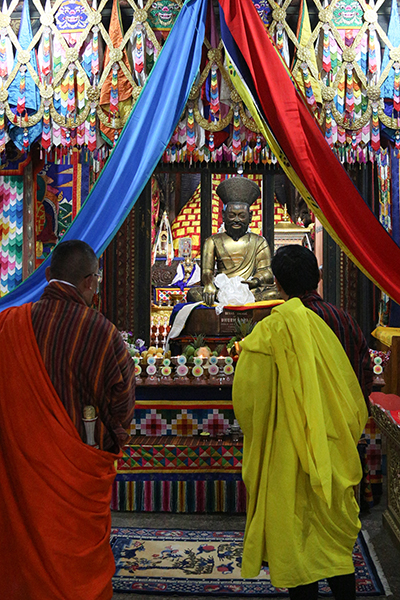 His Majesty The King offered prayers before a special statue of Zhabdrung Ngawang Namgyel. The statue was received with a traditional ceremony at the Paro airport, yesterday.
It was brought to the Simtokha Dzong, which is the first Dzong Zhabdrung built in Bhutan.
It will be displayed for public veneration in January.
The six-feet statue, which is at least 250 years old, is housed in the Asiatic Society building in Kolkata, India for over a century.
The society received the statue from Captain Hadyat Ally of the British Army, who is believed to have come into possession of the statue following the Duar War fought between Bhutan and the British in 1864 to 1865.
For the Bhutanese, the statue is a priceless relic of great spiritual significance, as are all relics attached to the Zhabdrung, who is revered as the great unifier of Bhutan and the founder of the Bhutanese nation-state and polity.
This year is especially significant as it marks the 400th Anniversary of Zhabdrung's arrival to Bhutan.
The commemoration of the event has included the display of precious relics of Zhabdrung, and thousands of people across the country have taken the opportunity to receive blessings from these relics, which are otherwise housed in various temples across the country.
The statue of Zhabdrung has been loaned to Bhutan by the government of India in light of the great importance the Bhutanese people attach to it.