Improved cooking stove gains popularity in Punakha
Choni Dema, Thimphu

Dec 16, 2016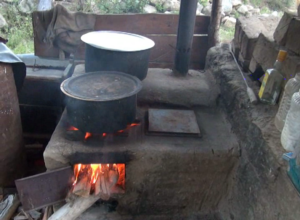 Using improved cooking stove is gaining popularity in Punakha.  More than 470 refined cooking stoves were made for many households of 11 gewogs under Punakha.
The stoves were made with the help of Global Environment Facility, United Nations Development Programme and Bhutan Trust Fund.
The initiative was launched two years ago and is part of Climate Change programme to help minimize the use of firewood and subsequently reduce greenhouse gas emission.
A villager from Guma Gewog, Phub Lham said unlike traditional cooking stove, this advanced version consumes less firewood.
"Since it is designed like Bhukhari, the heat inside the stove lasts longer and keeps the room warm," added Phub.
Another villager, Passang Gyem said contrary to the traditional stove, the improved one emits smoke through its chimney which is good from health perspective.
Non-Formal Education instructors in respective gewogs constructed the stoves. They were trained to construct stoves by the project facilitators.
About Nu 1.3 M has been used to build the stoves.