Central Monastic Body leaves for winter residence
Sonam Pem & Damcho Zam, Thimphu

Nov 29, 2016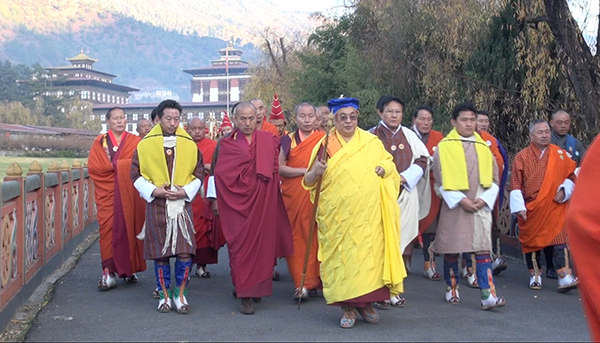 Led by His Holiness the Je Khenpo and the five lopens, the Central Monastic Body left for Punakha, their winter residence, today. As is the tradition, His Holiness and the monk body will halt for the night at the Thinleygang Lhakhang before proceeding to Puna Dewa Chenpoi Phodrang tomorrow morning.
His Holiness the Je Khenpo and the monk body will spend the next six months in Punakha and move back to Thimphu on the first day of the fourth Bhutanese month.
The tradition of maintaining a summer and winter residence was first introduced by Zhabdrung Ngawang Namgyel in the 17th century.
Coinciding with the day, His Holiness the Je Khenpo also consecrated 1000 statues of Guru Rimpoche at the Memorial Chorten, today.
The statues were made from the voluntary contributions of the people of Sombeykha, Mochhu in Haa.
The statues will be kept in the Phuntsho Dargayling Lhakhang in Haa.
In the meantime, a weeklong Om Ami Dewa Hri Dungdrub and Dho Tharpa Chhenpo prayer recitations presided over by Gyeltshen Truelku concluded in the capital, today. Thousands of devotees gathered to receive Goenpo Yoepak Maed and Tshepak Maed wang.