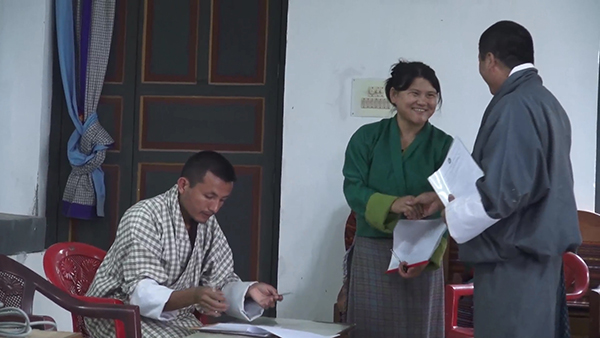 For 26-year-old Karma Dema, the battle was within the family. She had to beat a man of experience, her own 58-year-old uncle to secure the nomination.
During the zomdu nomination, Karma Dema got 69 votes of the 95.
Karma Dema is also the lone woman candidate vying for the post of gup in Samdrup Jongkar.
"I thought I would lose to my uncle and the result came as a surprise to me," said Karma Dema from Dewathang.
Right after the result was declared, her uncle, Pema Tenzin shook her hands for securing the nomination.
"I am happy for my niece. She is a better candidate than me and I believe she will give her best," said Pema Tenzin.
Karma Dema graduated from Gaeddu College of Business in 2013 and has worked as assistant Zero Waste Coordinator with Samdrup Jongkhar Initiative.
For now, Karma Dema believes the battle is only half won. She still has to compete with Karma Phuntsho from Bangtsho Chiwog and Leki Wangchuk from Domphu-Dungkarchhoeling Chiwog.
In the meantime, five women candidates have also been nominated for the post of Mangmi and 14 female for the post of Tshogpas.
For 80 posts of local leaders in Samdrup Jongkhar, about 155 candidates have been nominated.