New hybrid electric car hits Bhutanese market
Nidup Gyeltshen, Thimphu

Feb 27, 2016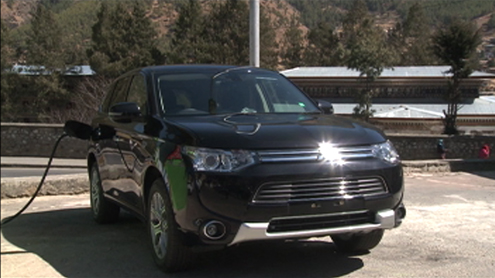 The government's vision of a green and sustainable transport system is slowly encouraging many to participate in the market. A new hybrid electric car called Outlander PHEV is looking to make headway in the Bhutanese market, yesterday.
The outlander PHEV is a four-wheel Drive SUV that runs a minimum of 40 kilometre when fully charged.
Although, the car can be externally charged through both home and quick chargers, when switched to combustion mode, the battery pack gets fully charged in an hour.
No one has bought the car so far, although, Mitsubishi launched the car in November last year. It is however looking towards the government for support.
A rough calculation showed if a petrol driven SUV and Outlander car was driven for 10,000 kilometres, the latter would save more than Nu 16,000 compared to the former.
Mitsubishi's Marketing Manager, Jigme Tshering, said that the car is designed to solve the range anxiety issue of conventional electric cars. He said if the cars were used as government pool vehicles, it would lead to huge savings.
The car can be primarily started either on fuel or electric battery unlike other hybrid cars that has to be started primarily on fuel.
Experts from Mitsubishi have also trained technicians in repairing and maintain outlander cars in Bhutan. Mitsubishi Motors has donated one car to Gross National Happiness Commission so far.