Bhutan records the highest trade deficit
Nidup Gyeltshen, Thimphu

Feb 18, 2016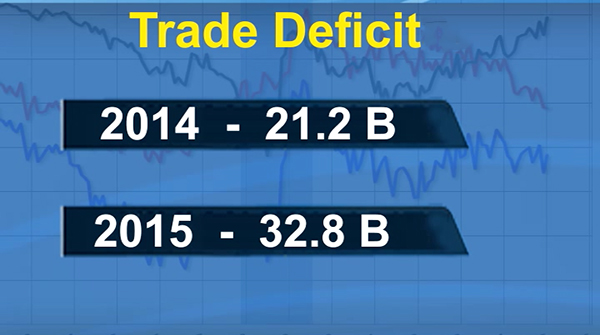 Bhutan's trade deficit, which is import minus export, increased to a staggering Nu 32.8 B, last year.
This is the highest trade deficit recorded so far.
In the previous year, in 2014, the deficit was recorded at Nu 21.2 B. This shows an increase of Nu 11.6 B within one year.
The deficit had increased due to huge imports made in 2015. While the economy's export base remained more or less the same at Nu 35 billion, imports increased significantly, reaching Nu 68 billion.
In 2015, Bhutan spent over Nu 3.4 billion in purchasing two new choppers and an airplane A319 by Drukair.
Other top imports include diesel oil and iron ore.