Ministers from east form committee to accelerate economic development
Pema Lhaden, Thimphu

Feb 5, 2016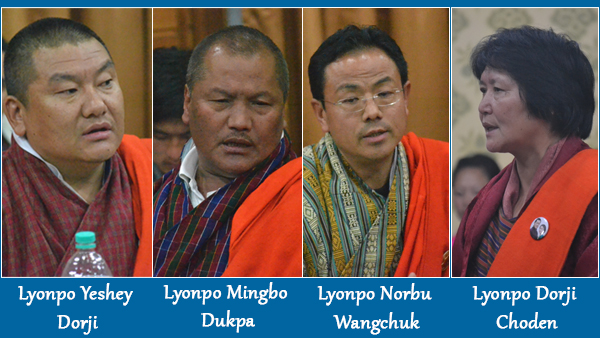 Four cabinet ministers have formed a committee to accelerate economic development in the eastern parts of the country. The ministers are agriculture minister, Yeshey Dorji, education minister, Mingbo Dukpa, economic affairs minister, Norbu Wangchuk and works and human settlement minister, Dorji Choden.
The ministers felt the need for a committee as eastern districts are trailing behind in terms of economic growth.
Works and human settlement minister, Dorji Choden said the committee will be working within the framework of 11th Five Year Plan.
The committee is pushing the widening of East-west Highway, renovation of Yongphula Domestic Airport and upgrading a few educational centres. These activities are already part of the 11 Five Year Plan.
"We are giving priorities to Montanga Industrial Estate in Samdrup Jongkhar and Bongdeyma in Monggar. These are being developed as industrial estates to promote and encourage establishments of businesses in those areas so that this can also again speed up economic growth in the eastern regions," said Lyonpo Dorji Choden.
Lyonpo also said they have been able to push for Kholongchhu Hydropower Project in Trashi Yangtse. "It has now become operational."
The minister also said despite the country's policy of inclusive economic growth, eastern region has remained neglected because of its distance.
She said the country's capital is located right in the western part of the country which makes the distance between Thimphu and eastern parts sizeable. Lyonpo said because of the distance, implementation of policies becomes difficult.
Population and Housing Census report of 2005 reported that the number of people migrating from rural to urban places was highest from eastern dzongkhags.