NA of Bhutan Children's Parliament adopts one-teacher one-subject policy
Sonam Tshering, Thimphu

Jan 5, 2016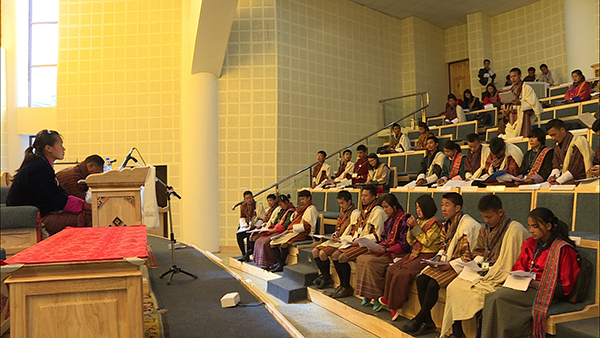 The National Assembly of the Bhutan Children's Parliament adopted one-teacher one-subject policy, in the second session, today. A majority of the 43 members said specialisation would bring about professionalism in teaching which would contribute to quality education.
Nganglam Representative, Sonam Jamtsho said the students show poor performance when they are taught by teachers who do not have specialisations.
The representatives also discussed on the need to make Dzongkha the main subject. Dzongkha is an alternate subject in schools.
"We discussed on the importance of National Language. I also believe it as important," said Nubi-Tangsibji's Representative, Kuenzang Lhamo.
The Dewathang-Gomdar Representative, Khenrab Yoesel said their resolution to make Dzongkha as the main subject in schools will not be without challenges. "We can't do it alone. For instance, we have to consult with the Ministry of Education."
After extensive deliberation, the Lower House endorsed the resolution.
The National Assembly endorsed that the students should not be allowed to use cell phones in schools.
The house also discussed and endorsed disallowing underage marriage, reducing school enrollment age from six to five years, and disallowing sale of alcohol by the shops near schools.
The deliberations also touched upon teenage pregnancy, and suicide among others.
The members of Bhutan Children's Parliament will discuss substance abuse among the youth, mismatch of jobs and skills in the job market, and impact of social media, among others, tomorrow.