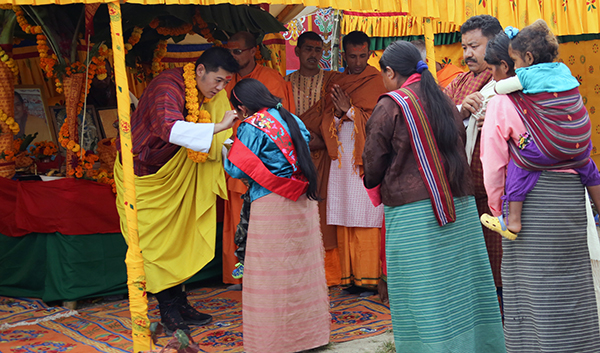 His Majesty the King joined the people of Loggchina Gewog in Chhukha to celebrate Dashain, yesterday. His Majesty also granted an audience to the hundreds of people gathered to welcome and meet the King.
Upon reaching Loggchina, His Majesty the King was welcomed by the Hindu Pandits and was offered traditional flower garlands. His Majesty attended the prayers followed by a tika ceremony.
Addressing the people, His Majesty said that it was important for the Bhutanese to remain united and live in harmony, so that the future of the country continues to be secure and peaceful. His Majesty reassured them that their difficulties and would continue to receive His Majesty's personal attention.
As it was an auspicious day for the people of Loggchina, His Majesty exchanged tika with the pandits and granted tika to the people gathered at the ground.
People expressed their joy and excitement to get an opportunity to celebrate Dashain with His Majesty the King. Dashain is one of the most celebrated Hindu festivals.
A local resident, Jit Bahadur Rai said it was his happiest day since he got to meet the king in person.
His Majesty also granted Tokha to the people in the afternoon. Various cultural and entertainment programs were performed adding colour to the festivities.
After the celebration, His Majesty spent the rest of the day visiting the people in their homes till late in the evening. His Majesty spent the night camped in Loggchina.
The day before, His Majesty, accompanied by Her Majesty the Gyaltsuen met with the people of Samphelling Gewog. His Majesty interacted with hundreds of people gathered and granted tokha to the people. His Majesty the King who is on a royal tour granted land Kidu to the people of Chhukha last Thursday.