ATM snafu costs some BNB clients
Oct 20, 2015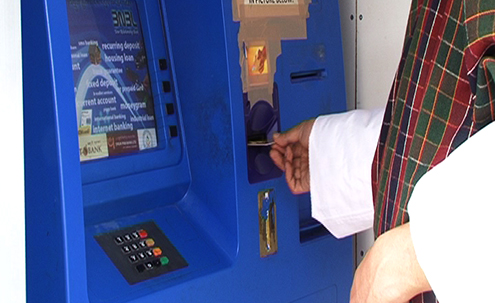 Bhutan National Bank (BNB) clients using their Automated Teller Machine (ATM) cards to withdraw money from another bank are experiencing unauthorised withdrawals from their accounts. In some cases, although cash has not been dispensed, their accounts were debited.
For some, it has taken months to get their refunds while others are still waiting.
A BNB client Therbum Yangchen said she had tried to withdraw money from a BoB ATM using BNB card, but it did not work. The next day when she withdrew from a BNB ATM, she had found out Nu 1,800 was already debited from her account.
Therbum said she had to visit both the banks as each bank officials directed her to the other bank. "After I filed the complaint form, I was told the debited amount would be refunded within three months time."
It has been 11 months, since Therbum has waited for a refund of the debited money.
Another BNB client, who experienced similar incident said, despite lodging a complaint with the bank, officials from the bank had said that there was no certainty in getting a refund.
There are several others who spoke to BBS about their failed attempts in getting refunds from the bank.
Bhutan National Bank's chief executive, Kipchu Tshering said should a client face any discrepancy during transactions; the client should consult the bank immediately.
He said, there could be problems with anybody using one bank's ATM card to withdraw from another bank, but if they take up the issue immediately with the bank, it could be resolved, but if people lodge their complaints after six months time, it would be difficult to authenticate.
Bank officials said it takes a maximum of one month to refund their client's money. However, the confirmation has to come from the bank whose ATM was used for the withdrawal. As of now, the Bank has four such cases pending.