Issue being raised on Chamkharchhu fairly late: PM
Sep 18, 2015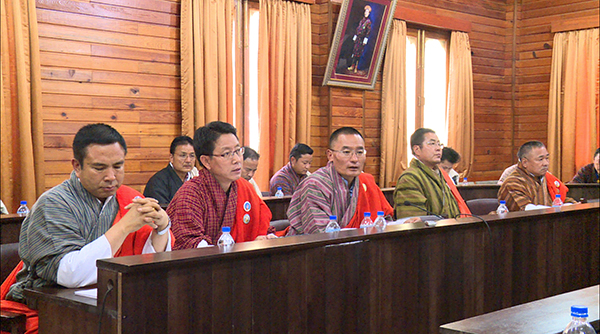 The Prime Minister, Tshering Tobgay said the issue being raised on Chamkharchhu Hydropower Project is fairly late. Bhutan-India governments had signed an agreement on the construction of Chamkharchhu Hydropower Project in 2006.
Lyonchhen was responding to the debate on the Hydropower Project that ensued after an environmentalist, Yeshey Dorji started an online petition. The petition called the government and the policymakers to keep Chamkharchhu un-dammed and free flowing.
"We have committed to become carbon neutral, the only country in the world to declare so. If we export 80 percent of our electricity, we would offset almost more than 4 M tons of Carbon Dioxide in India. Bhutan's hydropower projects benefit Bhutan financially and environmentally. We have to ensure that the construction of hydropower continues."
Lyonchhen also said free health care and education will no longer be free if Bhutan stops constructing hydropower projects.
Yeshey Dorji had said no substantial work has yet been done on the project – other than the DPR that is still a work in progress. "Therefore abandoning the project will not translate into any significant loss of money." He said the petition is perfectly timed.
The environmentalist had said he is not against hydro-power projects but against the manner in which the constructions are being implemented.
"…in a situation where global warming is creating all sorts of fresh water scarcity, we cannot be so irresponsible as to dam every one of our rivers."
However, Zhemgang MP, Lekey Dorji had told the local media that Chamkharchhu is the fastest and the most practical way to provide the basic ingredients for economic development for Upper Kheng.
He had also argued that Chamkharchhu, unlike other hydropower plants, is not a reservoir-based plant. "It is a run of the river project and should not unduly change the local climatic conditions."
Chamkharchhu, unlike Punatsangchhu I or II projects, according to MP Lekey is a Joint Venture project on 70:30 debt equity model. "And even our equity portion of 15 percent would be a grant and the other 70 percent would be a project loan."
He also had said while a sovereign guarantee for loan constitutes as national debt, it is self-liquidating and there is a huge market for power just across the border. "Not doing the project or delaying the project is an economic opportunity lost for a nation that needs revenue sources."