Gyaltshab Jigme Dorji Wangchuck graces inauguration
Sep 18, 2015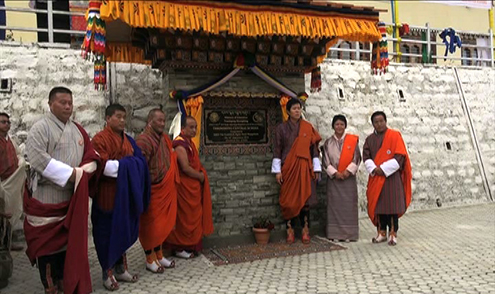 His Royal Highness Gyaltshab, Jigme Dorji Wangchuck, graced the inauguration of newly built buildings of Thrimshing Central School, under Trashigang Dzongkhag on Wednesday. Her Royal Highness, Ashi Yaetsho Lhamo accompanied His Royal Highness the Gyaltshab.
The officials of Trashigang Dzongkhag, Thrimshing Dungkhag, Gewog Administration, teachers & students of Thrimshing Central School and local people, received His Royal Highness Gyaltshab Jigme Dorji Wangchuck through a traditional chipdrel procession.
Following the marching ceremony, His Royal Highness graced the Trashi Nga-Soel and Trashi Rabney ceremony.
Led by Trashigang Lam Naten, the dzongkhag and dungkhag administration and Ministers for Education, Economic Affairs and Work and Human Settlement offered Tashi Dzegay and Ku-Sung-Thugten Mendrel to His Royal Highness the Gyaltshab.
This was followed by recitation of Zhabten for His Majesty the King and His Majesty the fourth Druk Gyalpo long life.
After that His Royal Highness the Gyaltshab unveiled the inaugural plaque to mark the formal inauguration of the new buildings. This was followed by cultural events.
His Royal Highness then interacted with the local people, who offered Tshogchhang, and granted Tokha to more than 2,000 people who had come to attend the inaugural ceremony.
Constructed at a cost of Nu 141.43 M, the new structures include two 64-bedded hostel, three-storied academic building, ccience lab and staff quarters.
The construction began in 2012 and was completed in 2014. The Government of India funded the construction of the school buildings. The newly built buildings of the school are fitted with rainwater harvesting system.
The erstwhile Thrimshing Primary School has been upgraded to Thrimshing Central School this year.
Currently, there are 288 students studying from class PP to IX. His Royal Highness granted Cash Soelra to the students to have a school picnic.
Later in the evening, His Royal Highness visited the National Handloom Development Centre in Khaling. His Royal Highness also granted audience to the local people who offered Tshogchhang at Kharungla, Khaling and Brekha on the way.