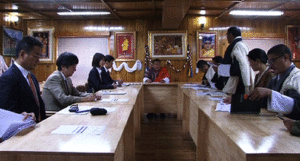 The Ministry of Agriculture and Forests and Japan International Cooperation Agency signed the 'minutes of discussion' to improve machinery for the construction and maintenance of rural roads in the country.
JICA has confirmed, in principle, to provide 30 excavators, 20 backhoe machines and two trailers to the ministry.
The ministry had put up the proposal during the 9th Bilateral Annual Consultation, held between Japan and Bhutan, in 2014.
The agreement will be finalized early next year.