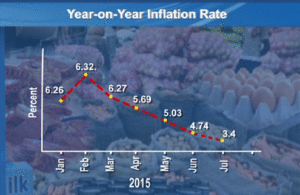 Bhutan's consumer inflation dipped to its lowest in July this year reaching a meager 3.4 percent. This means price of goods and services increased by only 3.4 percent compared to a year ago when it increased by an average 8 percent.
Imported inflation fell by over 2.6 percent between June and July this year. The significant drop in inflation was attributed to decrease in global crude oil prices and improved monsoon in India.
Officials from the National Statistics Bureau said Bhutan and India's inflation follows a similar trend and inflation in India has dropped significantly compared to last year.